The Benefits of Hiring Mold Removal Professionals
Water damage can occur unexpectedly and wreak havoc on your property. In the event of a water damage emergency, you need to act fast and seek professional help to prevent further damage and health hazards. Hiring mold removal professionals is important.
That's where we, 911 Restoration, come in – a leading water damage restoration company that offers expert mold removal services. In this article, we'll explore the numerous benefits of hiring professional mold removal professionals and how they can help keep your home safe and healthy.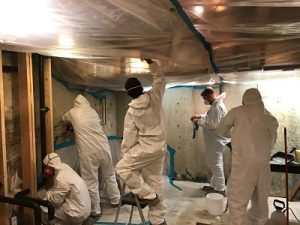 Prevent Health Hazards
Mold growth is a common occurrence in areas that have experienced water damage. Mold spores can cause respiratory problems, allergic reactions, and other health hazards. Professional mold removal professionals have the necessary equipment, knowledge, and training to safely remove mold from your home. They use specialized techniques and protective gear to ensure that mold spores are not spread throughout the property, preventing potential health hazards.
Identify Hidden Mold
Mold can grow in hidden areas, such as behind walls or under flooring. It can be difficult to detect mold growth in these areas, and DIY removal attempts can worsen the situation. Professional mold removal experts have the expertise and equipment to identify hidden mold growth and develop a targeted removal plan. They use moisture detection tools and other advanced equipment to locate mold growth in hard-to-reach areas.
Prevent Future Mold Growth
Mold growth is often a sign of excess moisture in your home. Professional mold removal experts not only remove the mold but also identify the source of excess moisture and take steps to prevent future mold growth. This can include drying out wet areas, fixing leaks, and improving ventilation. By addressing the root cause of the problem, mold removal professionals can help prevent future mold growth and keep your home safe and healthy.
Save Time and Money
Attempting to remove mold yourself can be time-consuming and costly, especially if you don't have the necessary tools and equipment. Professional mold removal experts can complete the job efficiently, saving you time and money in the long run. They can also provide recommendations for preventative measures, such as regular inspections, to help prevent future mold growth and save you money on potential repairs.
At 911 Restoration, we understand the importance of great communication during a stressful emergency. Our professional mold removal services are designed to provide peace of mind and restore your property to its pre-loss condition. We have the necessary expertise, equipment, and training to safely remove mold and prevent future growth. Don't let mold growth compromise your home's safety and your family's health. Contact us today for IICRC-certified expert mold removal services.
Follow us on 911 Restoration of San Diego Facebook to stay up to date on local news and alerts surrounding San Diego.