Pack-Out and Contents Service
Sometimes a yellow restoration mold and water damage situation can be so severe that it is necessary to remove the contents of your home or business to allow professionals to conduct proper restoration services.
911 Restoration of San Diego understands that these situations can be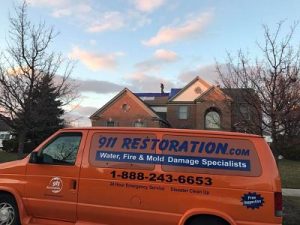 highly emotional and chaotic, so we want to make this whole process as easy as possible for you.
This is why we offer free inspections in order to determine the scope of the work and estimate the losses. Our phone number is 858-216-2488 and we will answer your phone call no matter the time of day.

We get pack out crews to your home between 6 and 24 hours, depending on the circumstances of your situation. In order to take care of you and your contents we offer services that include:
Complete pack out of the contents

Clean and repair contents as needed

Create on-site storage spaces for special situations

Provide off-site, climate controlled storage facilities

Create a detailed inventory of all your removed contents
911 Restoration of San Diego understands how important the contents of your property are to you and we will respect your possessions as if they were our own. So, call our San Diego contents technicians at 858-216-2488 when you need professional pack out services and we will make sure you are taken care of.
You Can Count On Us To Pack Out Your Home or Business
If your property becomes flooded, the water can soak into your furniture, rugs, clothing, children's toys, electronics, and other personal items, which can potentially lead to even more of a loss.
The best way to salvage your contents and complete a successful restoration job is to get the items out of the water and into a ventilated area as quickly as possible after the incident has taken place.
Getting your possessions out of the water is the first priority of a pack out job. 911 Restoration offers off-site storage facilities that are climate controlled to keep your contents from becoming damaged while we complete the restoration process.
We understand that sometimes there just isn't enough time to get your contents to an off-site storage facility, at which point we will construct an on-site storage solution to make sure your contents are in a secure place. While we pack out all of the necessary contents we make sure to take a thorough inventory of everything, including images of the items. This ensures that everything is accounted for and prevents your possessions from being misplaced.
911 Restoration acts quickly when it comes to these situations. So, give us a call the moment your property is affected by a flood or any other disaster and we will provide you with the pack out services you need.
We Help You Make Tough Choices When It Comes To Your Property's Contents
By removing your contents from your property it allows our technicians to
implement restoration services without any interference. If your floor has been badly flooded or mold has been found inside the walls, we will remove your furniture and other items to clear the area.
Packing out your contents also helps us protect your items from becoming permanently damaged by water or other debris that may be invading your space. If your favorite couch is soaked with floodwater, then we can dry it out, clean it up, and even repair any damage.
However, sometimes items have been damaged beyond repair, and when that happens you may have to make the tough decision to dispose of the item. This can be hard to do, especially if you are unsure if the item can be salvaged or not, but we can help you decide if your contents are unsalvageable.
911 Restoration of San Diego will care for your personal belongings with the attention you deserve. So, call our San Diego content professionals when you need your content professionally packed out and we will take care of everything you need. Give us a call at 858-216-2488 and we will provide you with a free mold inspection in San Diego.