Services
When facing water damage issues such as pipe bursts, property floods, ceiling leaks, or any other water-related emergencies in San Diego, you can always rely on 911 Restoration of San Diego for immediate water damage repair services and comprehensive flood cleanup solutions. Our highly-trained water damage restoration technicians are committed to swift response times, ensuring they arrive at your residence or business within 45 minutes of your call. They come equipped to handle a wide range of tasks, including roof repairs, boarding up, leak detection, and efficient water extraction. Additionally, they take care of packing and safely storing any vulnerable belongings. Once the water removal is completed, our professionals deploy industrial-grade fans to thoroughly dry your property.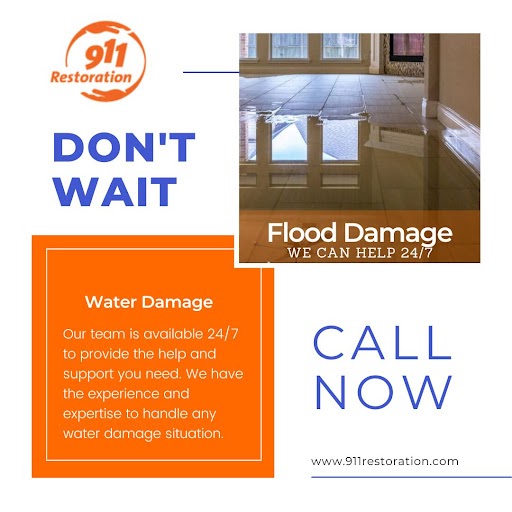 Furthermore, our experts understand that the longer water remains in your property, the greater the risk of structural damage, such as rotted drywall, warped floorboards, or compromised ceilings. That's why our flood cleanup team conducts thorough damage and structural assessments. If any permanent destruction is identified, they take care of the necessary repairs, sparing you the hassle of hiring additional contractors. They also perform mold inspections and handle any required mold decontamination. If you've experienced water damage in San Diego, whether in San Diego itself or nearby areas like Chula Vista, Oceanside, or Escondido, rest assured that help is just 45 minutes away. Contact 911 Restoration of San Diego today at (your phone number).
Sanitization Services & Disinfection Solutions
In San Diego, California, water damage can lead to the need for thorough sanitization. Ensuring the safety of your customers when visiting your commercial establishment should be a top priority. Responsible business owners in San Diego maintain regular sanitization schedules to keep their properties clean and reputable. 911 Restoration of San Diego is here to support you in this endeavor. We are dedicated to contributing to the community by providing top-notch disinfection solutions. Our skilled technicians handle property sanitization and disinfection for both residential and commercial property owners with care and professionalism.
Mold Remediation and Removal After Water Damage in San Diego, California
A mold infestation is always an urgent matter. If you suspect mold growth in your San Diego home or business, or if you have visible mold, it's crucial to contact 911 Restoration of San Diego right away for a comprehensive mold inspection and effective mold remediation. Our mold inspection technicians, certified by the IICRC, meticulously inspect your property for any signs of mold growth. Many types of mold pose health risks, so our mold remediation experts take great care to eliminate the infestation without spreading harmful particles throughout your property. They also take steps to dehumidify the structure, a critical measure to prevent future mold growth, especially after water damage cleanup. Whether you own a business or reside in San Diego or the surrounding areas, you can always count on 911 Restoration of San Diego for comprehensive mold remediation services. Don't wait for mold to cause further damage to your property and health. Give us a call today at (858) 216-2488.
Sewage Backup And Cleanup
Few things are as distressing as a sewage backup in your San Diego property. As a property owner in Southern California, it's natural to feel concerned about how to handle the situation. Who can effectively remove sewage, eliminate the odor, and address health risks? 911 Restoration of San Diego has the answers to all your questions. Our certified sewage cleanup technicians can respond promptly to your property, ready to perform emergency sewage extraction. After cleaning up the mess, they employ professional-grade fans to thoroughly dry your property and carry out sanitization to protect you, your pets, and other occupants from dangerous bacteria. Additionally, they conduct a comprehensive mold inspection and address any damage caused by the sewage backup. Dealing with a sewage backup can be a nightmare, but you can rely on the experts at 911 Restoration of San Diego to restore your property to a pristine and odor-free condition in no time.
Fire And Smoke Damage Restoration
Whether it's property fires or puff backs, 911 Restoration of San Diego is your trusted partner for fire restoration services in San Diego, as well as the surrounding areas. Our fire damage restoration team is well-equipped to handle all aspects of water and fire damage cleanup, including smoke, ash, soot, and odor removal, as well as full property restoration. We utilize soda blasting to effectively clean surfaces and eliminate odor-causing particles, going the extra mile to clean furniture and dishes. Our fire damage cleanup professionals have received training in various aspects of water and fire damage repair, ensuring they can address any issue and restore your property to its former state. After a fire, extensive water damage cleanup and extraction are often necessary due to the amount of water used to extinguish the flames. Rest assured, our IICRC-certified staff is fully capable of delivering a Fresh Start. While fire and water damage can be overwhelming, moving forward is more manageable than you might think. Don't hesitate—call us today at (your phone number).
Disaster Restoration
Unexpected disasters can strike and lead to potential property damage. With the regular threats of floods, wildfires, and earthquakes, property owners are never entirely immune to the risk of destruction. Fortunately, 911 Restoration of San Diego is always ready to assist. Our experts in water and fire damage restoration and disaster restoration have undergone extensive training to handle every facet of disaster recovery. Whether you've suffered a devastating fire, need smoke and odor removal, or require flood damage restoration due to a severe weather event, our team is prepared to help. No matter the nature of the disaster, we have the skills to clean, rebuild, and provide you and your property with a Fresh Start. If you've been affected by a catastrophic disaster, there's no need to despair. Contact us today for reliable and certified residential and commercial disaster restoration services.
Commercial Property Water Damage Restoration in San Diego, California
When it comes to commercial property damage in San Diego, time is of the essence. Whether it's caused by a flood, fire, sewage backup, or mold contamination, any water damage to your San Diego property can impact your bottom line. Fortunately, the water damage restoration technicians at 911 Restoration of San Diego work quickly and efficiently. They are equipped to serve all types of properties, including commercial spaces. For your commercial restoration needs in San Diego, you can count on 911 Restoration of San Diego at any time, day or night, throughout the year.
Local And Certified Property Damage Restoration Services In San Diego, California
No matter the type of property you own or the nightmare you've experienced, our IICRC-certified professionals are committed to providing you with a Fresh Start. Contact us today for comprehensive and compassionate service. 911 Restoration of San Diego is a proud franchise of 911 Restoration Franchise, Inc. For more details, please visit our corporate website. At 911 Restoration of San Diego, our customers' feedback is a testament to the high level of service we provide. We are proud of our numerous positive Google customer reviews, which reflect the hard work and dedication of our team in delivering high quality water damage restoration services.   911 Restoration of San Diego is located at 7626 Miramar Rd, Suite 3600 San Diego, CA 92126.