Water Damage in Escondido
Leak and flood damage is an unwanted annoyance that can ruin furniture, spread mold, and degrade the structural integrity of the property.
Fortunately, when you need water damage restoration in Escondido, the technicians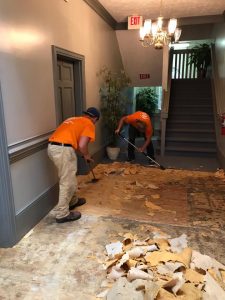 at 911 Restoration of San Diego are available 24/7/365 to respond to any water emergency, whether it be it from a pipe burst or bad weather.
With nearly four decades servicing San Diego County, the technicians are exceptionally qualified to assist the local home and business owners from the threat of water damage. They guarantee to arrive within 45 minutes when you need emergency flood cleanup services.
The specialists are committed to keeping the community of Escondido dry and safe from the consequences of water damage. When we set out to perform water damage restoration services, we do so while keeping the individual customer and their community in mind.
Experts know that homes with older pipes and plumbing need special attention to prevent future emergencies, which is why we offer property owners with free visual inspections if you feel like you may be experiencing a water-based issue.
No other restoration company puts the customer first like 911 Restoration of San Diego does. So, call us when you need help from a team that cares and understands your needs as a property owner in Escondido.
Mitigating Flooding Emergencies Day Or Night
When you experience a pipe burst in your property, the first thing you should do is stop the flow of water by shutting off the main water line while you wait for flood cleanup services.
A pipe burst can quickly cause a severe amount of structural damage to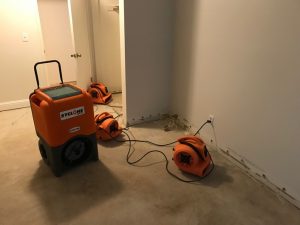 your hardwood floors, carpets, or drywall, which is why it is crucial to gain control of the situation as quickly as possible.
While the repair techs are on the way to your home or business, you can begin taking steps to prevent further flood damage by removing all of your furniture and other belongings out of the flooded room.
Swift action is imperative when dealing with water damage issues because if moisture is allowed to pool for long enough, can lead to mold. Not only can mold cause serious health problems for you and your family, but it can also lead to escalating water remediation costs.
911 Restoration of San Diego always puts the customer first, and their technicians will implement comprehensive water restoration services that will prevent future instances of water damage from occurring.
Call our repair techs when you need flood cleanup in Escondido, and we will give you peace of mind knowing that the most qualified water damage restoration company is on the job.
Understanding Your Water Damage Insurance Coverage
According to the Insurance Information Institute, water damage issues that aren't the result of a flood, earthquake, or property owner negligence are typically covered by a standard 'homeowner's insurance policy.
However, water damage can sometimes be the result from an overflowing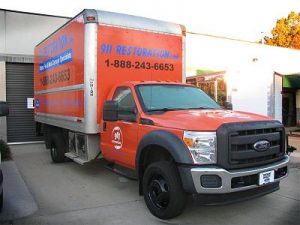 body of water, so it may be wise to purchase supplemental insurance policies like flood and earthquake insurance if you want to be prepared to the maximum degree.
Flooding from a natural disaster like an earthquake is not covered under any standard 'homeowner's policy, meaning that if your home floods as a result of a tremor, all of your repair costs will be out-of-pocket.
With all of this information to digest, it is vital to have a trusted water damage restoration company that also knows the insurance industry. Our professionals have years of experience dealing with not only all water damage issues, but with every possible insurance question, you might have.
Staff members will provide a free insurance consultation to ensure that you completely understand what coverages you are entitled to receive from your insurance policy. Even if your flood cleanup services are not covered, you can be sure that 911 Restoration consistently provides affordable prices for all of their water restoration services.
911 Restoration of San Diego is committed to being the most accomplished water damage restoration company in Escondido. The entire organization is licensed, insured, and bonded for your protection, as well as being IICRC certified.
When customers call us they can feel confident in the fact that they are in the hands of qualified technicians who will turn your water emergency into the Fresh Start you deserve, so give us a call today!
Servicing the cities of Bonita, Carmel Valley, Central Escondido, La Jolla, Rancho Santa Fe, Del Mar, Encinitas, Hidden Meadows, Cardiff, Carlsbad, Poway, Oceanside, Solana Beach, Ramona, Rancho San Diego, Bonita Long Canyon, Bonsall, Chula Vista, Coronado, El Cajon, Escondido, Imperial Beach, Jamul, La Mesa, Lakeside, Lemon Grove, National City, San Diego, San Luis Rey, San Marcos, San Ysidro, Santee, Vista, Valley Center, Spring Valley, and the surrounding areas.