Sewage Backup Cleanup in San Diego
Incidents involving a sewage backup can create a disastrous situation in your property and requires immediate professional attention in order to return the environment back into safe space.
911 Restoration of San Diego is available 24/7/365 to combat the threats of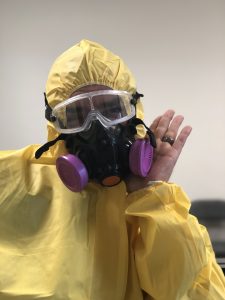 everything from sewage water damage to bacterial risks that can influence the health of you and your loved ones.
When you are in the midst of a sewage emergency, technicians will arrive within 45 minutes, ready to give property owners a free visual inspection as soon as they get on the scene. Our phone number is 858-216-2488 give us a call to see how we can offer you a free mold inspection in San Diego.

Our water damage restoration company Escondido CA has been performing sewage backup cleanup services in San Diego, Chula Vista, and Escondido for years. They have handled everything from grey water overflows to hazardous black water spills that contain raw sewage.
We offer affordable prices on all of our sewage water cleanup services and will work with all insurance providers to ensure that your out-of-pocket expenses stay as low as possible.
You can count on technicians to perform water extractions, implement drying techniques, fix plumbing leaks, as well as check for signs of mold and drywall rot.
There is no reason to try to clean up sewage spills on your own. Call 911 Restoration of San Diego today at 858-216-2488 and, before you know it, your property will be returned to you looking fresh and clean.
Let The Professionals Handle The Sewage Restoration
It can be dangerous to attempt a sewage water cleanup on your own if you do not have access to the proper gear or protective clothing needed to keep you safe from the harmful bacteria.
To keep your health intact, call the technicians in San Diego to get the job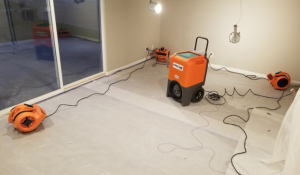 done safely and quickly. Our number is 858-216-2488 and we will answer your phone call no matter the time of day.

A spill resulting from a sewage backup is one of the most dangerous water damage problems you can encounter, so don't take a chance when it comes to your health and well-being.
The entire operation is licensed, insured, and bonded for your protection and employs IICRC Certified technicians who are qualified to perform even the most complex sewage backups.
Sewage spills are full of e Coli, bacteria, and deadly viruses making this sludge something you should never come in contact with. Even if it merely touches your skin, you can develop rashes and other health issues.
Only professionals with HAZMAT gear can safely and successfully restore properties that were flooded by black or grey water. So, call our experts in San Diego today for immediate sewage water cleanup services.
A Water Cleanup Company You Can Depend On
The first thing every property owner should do if they encounter sewage in their home or business is to call 911 Restoration of San Diego and stay far away from the black water until we get there.
It is especially important to keep children and pets away from the sewage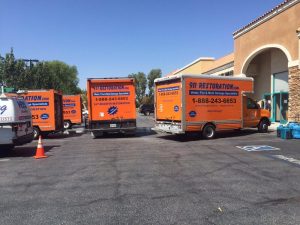 spill because, as mentioned before, exposure to black water can lead to serious illness.
One thing you can do to help the restoration process without coming into contact with the sewage is to turn off your main water valve. Shutting off the valve will stop the flow of water going into the home.
You can also open all windows to allow for air circulation in the property, which can help start the process of dispelling the foul odor.
Our sewage backup cleanup technicians in San Diego will start the sewage restoration job by conducting an inspection to determine the source of the problem and the extent of the damage.
Once we stop the water flow, the specialists will begin the water extractions. By using the latest drying technology, we will remove every trace of sewage water and dehumidify and deodorize the premises.
Once the repair techs are confident the spill is under control, they will completely clean, disinfect and dry the area, leaving your property sparkling clean. So, call 911 Restoration of San Diego to receive sewage water cleanup services today, and we will turn your backup into a Fresh Start!
Serving the communities of Bonita, Bonita Long Canyon, Bonsall, Carlsbad, Carmel Valley, Cardiff By The Sea, Central Escondido, Chula Vista, Coronado, Del Mar, El Cajon, Encinitas, Escondido, Fallbrook, Hidden Meadows, Imperial Beach, Jamul, La Jolla, Lakeside, La Mesa, Lemon Grove, National City, Oceanside, Poway, Ramona, Rancho San Diego, Rancho Santa Fe, San Diego, San Luis Rey, San Marcos, Santee, San Ysidro, Solana Beach, Spring Valley, Valley Center, Vista and surrounding areas.