Mold Removal in San Diego
You don't have to deal with a mold infestation on your own in San Diego.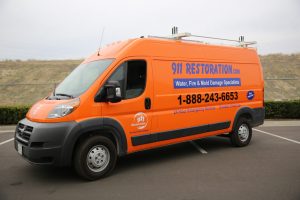 You can contact mold remediation experts right now by calling 911 Restoration of San Diego. Our technicians are on call 24/7/365 and they can reach properties around San Diego within 45 minutes of an emergency call. Our number is 858-216-2488 and we will always answer your phone call no matter the time of day.

Same-day mold remediation services can quickly bring your property back to better-than-new condition. Let our IICRC certified mold cleanup techs get to work right away by:
Completing a Mold Inspection and Mold Testing

Packing Out and Storing Items Not Infested with Mold

Using Advanced Mold Decontamination Techniques

Removing Odors, Mold Stains, and All the Signs of a Mold Infestation
The mold cleanup experts at 911 Restoration of San Diego can even handle black mold removal. We have the equipment and training to deal with toxic mold before it can further endanger your health or your property. Contact us right now to get the help you need with mold remediation in San Diego.
Begin Mold Remediation in San Diego Today
Mold is a fungus that exists naturally in the world around us. However, it can cause big problems if it gains a foothold in your property. The fungus can continue to spread every day until you start mold removal in San Diego.
You can limit the total damage to your property and the risk to your health by contacting 911 Restoration of San Diego as soon as you notice signs of mold. San Diego mold cleanup techs are always manning the phones, so you can get the professional help you need quickly.
After completing a mold inspection, crews can develop a personalized mold cleanup plan for you. Our mold experts:
Are Licensed, Bonded, and Insured to Handle Commercial and Residential Mold Removal

Have the Training and Experience to Take on Large and Small Mold Infestations

Can Repair the Water Damage That Led to a Mold Infestation

Use Industry Best-Practices for Mold Decontamination
Get a Fresh Start after a mold infestation by contacting us at 858-216-2488 for mold decontamination in San Diego. Let us get rid of all traces of mold throughout your home or business starting right now.
Return Your Property to Perfect Condition with Mold Removal in San Diego
Mold can make its mark on your property. Mold remediation can wipe that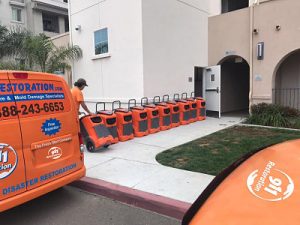 mark away and bring your property back to better-than-new condition. Find out exactly what you're dealing with by letting us complete a mold inspection in San Diego.
Depending upon the results of your mold inspection, crews may isolate areas impacted by mold, use air filters to get rid of mold spores, and begin immediate mold decontamination. Working quickly can reduce the damage done to your walls, floors, ceilings, and possessions. Call the mold experts at 911 Restoration of San Diego today to get back your peace of mind after a mold infestation. Our number is 858-216-2488 and we will always answer your phone.

Servicing the cities of San Diego, Carlsbad, Oceanside, Chula Vista, El Cajon, La Jolla, Del Mar, Coronado, Escondido, Central Escondido… and surrounding areas.
Serving the communities of Bonita, Bonita Long Canyon, Bonsall, Carlsbad, Carmel Valley, Cardiff, Central Escondido, Chula Vista, Crime Scene, Coronado, Del Mar, El Cajon, Encinitas, Escondido, Fallbrook, Hidden Meadows, Imperial Beach, Jamul, La Jolla, Lakeside, La Mesa, Lemon Grove, National City, Oceanside, Poway, Ramona, Rancho San, Diego, Rancho Santa Fe, San Diego, San Luis Rey, San Marcos, Santee, San Ysidro, Solana Beach, Spring Valley, Valley Center, Vista and surrounding areas.