About 911 Restoration San Diego
Meet the Owner:
Roni Dahar, the owner of 911 Restoration San Diego is an expert at all things water damage restoration related.
He has been in the business since 2007 when he started his branch of
the company, and he has been taking care of properties throughout the area ever since.
Roni loves the restoration business, "because it gives me a chance to connect with people from all walks of life, and I really like taking care of all of these people when they need it the most." Roni explains.
This is one of the qualities that makes Roni and his team the best option that the good people of San Diego have when they need someone to do expert water extractions, sewage backup cleanup, or disaster recovery.
Roni and his team have seen all manner of chaos brought on by the effects of water damage and this is how they can sympathize with any homeowner during such an event. Roni and his teams don't just take care of the homes that they work on, but they also take care of the people who live in them.
"Our first priority is always to make sure that the homeowner is in a good spot mentally and that they have all their senses about them while we start doing the work." Roni explains. Taking care of the people and homes in San Diego is a full time 24/7/365 job, and it's one that Roni is proud to do day in and day out all year long.
Tips from the Best:
Roni and his crews have been through all different kinds of situations in their tenure in the restoration world, and this time has allowed them to develop a healthy understanding and total familiarity with all of the related needs and preventive measures possible in the business.
No tip or trick is too big or too small of Roni and his team to know it and use it on a regular basis.
With that in mind, they thought that it might help people to give some of those tips away so that people can take care of things on their own, or better yet, prevent disaster before it starts. Here are some tips from Roni and his team:
Ensure that all of the hoses and the rubber grommets that connect water lines to your appliances are in total and complete working condition. This will help to ensure that you don't experience a water damage situation should any of them fail spontaneously.
Check the chain in your toilet for wear and tear that may cause it to separate from the bobber, as this will help you prevent overflows and other toilet related catastrophes when you get in there to inspect.
Make sure that your washing machine discharge line is properly hooked up to the out-pour point and that there is no corrosion on the hosing itself. This will help to make sure that when your washer is going full speed that it won't jostle loose the hose and spew gray water all over your home.
Roni and his team have been taking tips like this to the bank for years, and now you should follow some of his expert advice and go check a few of these things out so that you can prevent any sort of damage from affecting your home when you least expect it.
San Diego Solutions:
Roni and his team often encounter situations that could have been prevented, but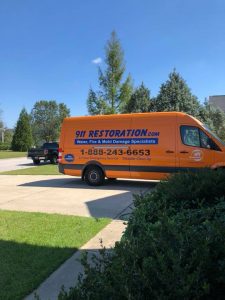 that were not and ultimately resulted in massive levels of water damage and other issues. One of these other issues is usually mold contamination from any residual moisture that is left lingering around after the water has been extracted.
Many times, homeowners feel that once the water is out of sight and everything appears dry that they can call it a job well done. This is not true and in fact creates a perfect breeding ground for mold spores and other fungal elements.
One time Roni and his team even saved an entire family from breathing in contaminated air on a daily basis because they decided to provide a homeowner with a free visual mold inspection.
When they got to the heart of the matter the entire first floor of the building was a moldy nightmare. They took care of not only the mold, but also the respiratory capacity of the entire household as they saved the day and their lungs. There are many things that Roni and his crews are capable of, and they take pride in their ability to master all of them with ease.
If your home is experiencing any of the problems described then you should contact Roni and his professional team of 911 Restoration San Diego experts today!