Mold Removal in San Diego
Have you spotted strange, dark blemishes on your walls, floors, or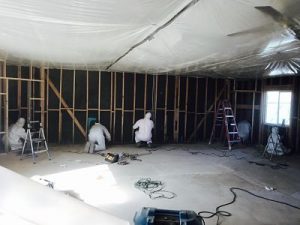 possessions? Do you notice a foul smell lingering in your home or business? If so, you might be dealing with a mold infestation here in San Diego, Escondido, or Chula Vista.
Mold can spread quickly inside of your property after a water damage emergency. Heavy rains, moisture seeping up from the ground, sewage backups, and leaking pipes can all give mold a chance to thrive. Once mold infiltrates your property, it can grow under your floors and behind your walls, only noticed after it is well entrenched.
Removing mold once it has gained a foothold can be an incredible challenge. Fortunately, you do not have to take on this challenge on your own. You can call 911 Restoration of San Diego to get same-day mold removal services. In fact, our IICRC certified mold remediation techs can reach properties in San Diego, Escondido and Chula Vista within 45 minutes of an emergency call, 24/7/365. Our number is 858-216-2488 and see how we can offer you a free visual inspection.

Our mold removal crew can:
Offer You a Free Visual Mold Inspection for Property Owners Only
Send a Mold Sample to a 3

rd

Party Laboratory for Testing

Focus on Mold Remediation and Preventing the Spread of the Mold

Handle All Aspects of Mold Cleanup and Mold Decontamination
The professionals at 911 Restoration of San Diego have the training and experience to take on commercial and residential mold infestations. Get back your peace of mind after a mold infestation by calling us today so we can go to work for you.
Mold Removal in San Diego Can Return Your Property to Perfect Condition
Many property owners are very concerned if they spot signs of mold growth in their home or business. After all, mold can spread quickly, damaging your walls, floors, and personal possessions. Mold can also be a threat to your health, especially if your property is infested with black mold.
Getting professional help to your property right away can help limit the damage caused by mold. The mold remediation techs at 911 Restoration of San Diego have the equipment and resources to take on mold infestations, no matter how far the mold has spread through your property. We are ready to take on any mold cleanup challenge in San Diego, Escondido, and Chula Vista.
Your mold decontamination process can start today as 911 Restoration of San Diego:
Completes a Mold Inspection to Assess the Extent of Your Issue
Isolates Mold in Your Property to Prevent it From Spreading
Uses Air Scrubbers to Remove Mold Spores from the Air

Utilizes Professional-Grade Tools for Mold Cleanup

Handles Total Odor Removal
You can protect your health by reaching out to 911 Restoration of San Diego as soon as you spot any signs of mold growth. Some types of mold can cause respiratory issues. Other forms are toxic and they can make you incredibly ill.
Get back your peace of mind by calling to our mold removal experts today. We can renovate and restore your property to better-than-new condition after you experience a mold infestation.
Get Help from Mold Cleanup Professionals Today
You are more likely to experience mold growth in your home or business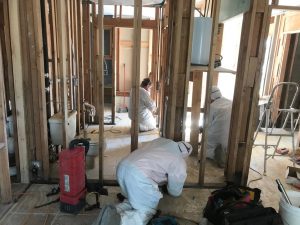 after a water and fire restoration san diego, Chula Vista, or Escondido. Floods caused by heavy rains, sewage backups, and burst pipes can all dump excess water into your property, giving mold a perfect place to thrive.
911 Restoration of San Diego is a full-service water damage restoration company escondido ca. That means we can handle water extraction and water damage restoration while we take on your mold removal needs. You can count on us to handle all aspects of the property restoration process quickly and effectively.
Mold remediation after a flood or burst pipe emergency involves completely removing moisture from your property. Our techs can look for hidden spots of moisture to limit the odds that you will face another mold infestation in the future.
You can get a mold inspection after any type of water damage, which can allow you to determine if you will need mold cleanup services. Taking care of mold decontamination right away can limit the damage to your home or business and protect your health.
The professionals at 911 Restoration of San Diego value your health and mental well-being. Let us totally renovate your property in San Diego, Escondido, or Chula Vista. You can get a Fresh Start after a mold infestation by giving us a call today. We are here to answer your call any time of the day or night, give us a call at 858-216-2488.