The Semblance of Stuff that Foretold Mold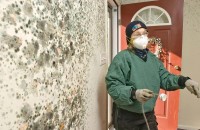 Every now and then we see a story in the news in which people are lined up around the corner of a small community street because an image of the Virgin Mary is gleaming from someone's drywall. But ask any professional mold removal company and they will be more cognizant of a moisture problem, rather than a spiritual revelation. By understanding the semblance of stuff that foretells mold, you can help protect your home and health from its chaos.
How Does Mold Form?
Here is the perfect recipe for a black mold spore colony: any environment high in moisture with a touch of humidity and little to no air circulation. In other words, if one of those yearly rainstorms strikes San Diego and your roof has a vulnerability, water can infiltrate your materials and cause mold growth. In other cases a pipe leak within your walls or under your floor can lead to a thriving colony of mold spores. Even a leaking faucet can produce harmful mold.
What are the Health Risks Associated with Household Mold?
Simply put, mold makes people sick and in some cases people have died from prolonged exposure to the stuff. Some of the health risks associated with household mold include asthma, especially in middle-aged adults and respiratory complications. If you are experiencing itchy eyes and skin, a runny nose, headaches, excessive coughing, low energy levels and fatigue, these are all physical symptoms that mold may be growing in your home.
Warning Sign #1: Dampness
Your house should not feel like a sauna, but if you can feel moisture in the air, you may want to have a mold inspection performed. Some of the best mold damage experts in San Diego perform free inspections for all concerned community members. Considering the health hazards that coincide with mold problems, and the fact that mold can diminish the re-sale value of your home, calling for a free mold inspection would be advantageous.
Warning Sign #2 Black Spots
You may have enough spotting on your wall to remind you of that Jackson Pollock painting you saw last summer at the museum, but there is nothing artistically stimulating about black mold. Sure, it may remotely look like a religious entity or Axl Rose holding a kitten, but it is just fungus. Black spots also commonly appear in the grout between tiles, on wallpaper, and under carpets on subflooring. It can also thrive on your walls, floors, ceiling and any other organic or sub-organic materials.
Warning Sign #3 Pre-Existing Water Damage
If you had some ruptured hoses, pipe bursts, a water heater leak or anything else that may have caused the need for water damage restoration services, your chance for having mold is automatically increased (unless a certified and licensed company intervened). All too often homeowners try to remediate the flood damage on their own, but professional companies use industry leading drying technology to restore homes to their original condition—a factor that almost always ensures mold will not be a problem to spring up down the road.
What Should I do if I have a Mold Problem?
Call a professional; do not try cleaning the mold on your own. When mold appears on surface areas there is almost always mold growing within exteriors, and this type of remediation much be performed by certified technicians who know how to do the job thoroughly, safely and in a way that doesn't jeopardize your home's re-sale value.