Have a Pet Plan for Home Disasters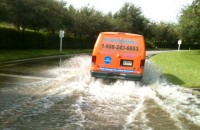 Natural disasters and emergencies can occur at any time. When they do, I think it is wise to have a plan of action for keeping both family members and pets safe. If you are like me, your pets are important to you and treated like part of the family. If I have to evacuate my home, they are going with me.
Make An Emergency Kit for Pets
Floods, fires and storms can quickly make it necessary to leave your home. I have prepared a list of supplies that should be stored in a sturdy container and available if an emergency strikes. The emergency kit for family members and pets should include items that are essential for comfort and survival.
A week's worth of canned pet food or dry food will keep hunger pains satisfied. Be sure to include a can opener if cans with easy lift tops are not available and rotate the food before any expiration dates expire to keep them fresh.
Include a week's worth of bottled water and feeding dishes. Gallon jugs are a good choice for keeping both pets and families hydrated. Also pack dish soap, disinfectant or bleach and litter scoops or garbage bags to dispose of waste.
Extra leashes, blankets and harnesses or pet collars will make moving pets easier. Pack feeding timers if you have birds and include pet toys that will keep your animals entertained.
Take current photos of all pets and store them in your kit to ensure that you have something to reference in case your animals get lost.
Medical conditions, veterinarian names, phone numbers and any medications are also essential
Locate Shelter Ahead of Time
I know that if an emergency occurs, I won't have time to locate a shelter for my pets. Friends and relatives may be going through the crisis too, so I want to be sure that I have a few backup plans. One of the first suggestions that I recommend is to have your dogs and cats micro-chipped. This identifies them if they get lost, and it ensures that you have some chance of locating them.
I also suggest contacting hotels outside of your area to determine which ones allow pets. Be sure to ask if they have different policies during emergencies and know how many and the size of pets that they allow. Animal shelters should also be contacted and asked if they will put up pets during emergency situations.
Planned Evacuation
Once you have a kit put together and have located shelters that you can turn to during a crisis, you'll want to plan the steps you will take if an emergency occurs. I stored my emergency kit near a main exit in my home so that I can grab it quickly. I also have my list of locations and their phone numbers on a sheet so that I can go down the list once I know that evacuation is eminent.
Having the kit and plans ready in advance gives me peace of mind and will definitely reduce stress in a situation that may be unpleasant. I'd suggest protecting your pets by having a plan in place too.