Mission Beach Centennial Celebration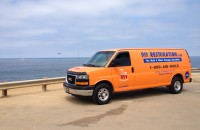 Since 1914, Mission Beach has existed to provide fun activities in the sun for San Diego residents and tourists from all over the world. The community's first plan was designed in June of 1914, and Mission Beach is home of an iconic boardwalk that stretches for nearly two miles along the oceanfront. It's the ideal location for cyclists, skaters and walkers. Small shops have opened along the way to take advantage of the foot traffic.
Many people enjoy the mom-and-pop eateries with gorgeous views of the ocean. If you prefer, the Mission Beach boardwalk is a great place to watch people, and the scene is reminiscent of many California boardwalks you've seen on TV and in the movies. You can never leave Mission Beach without a few souvenirs for friends and family. If you haven't been there recently, return this year for the centennial celebration, too.
100 Years of Mission Beach Fun
100 years is nothing to balk at, and Mission Beach is one community that is taking fun seriously. With ten decades under its belt, the city plans to host celebrations for its long and rich history. Tourists and residents of this San Diego neighborhood alike can enjoy these festivities at Mission Beach, and they all started last weekend.
The city wanted to kick things off with a bang, so they invited residents out on Saturday morning for a dedication ceremony. Participants met town leads on Ocean Front Walk, and leaders led townspeople to the site of a brand-new monument that depicts a 100-year run of sunshine-filled activities. The statue is permanently erected on the Mission Beach boardwalk, where much of those fun activities have occurred.
While I've been to many stuffy ceremonies, this wasn't the case with this celebration. Even the mayor of San Diego, Kevin Faulconer, showed up in a fun Hawaiian shirt, and the crowd was just as casual. The mayor commented on the beach's 100-year celebration, remarking how hundreds of thousands of San Diegans visit the beach in addition to many more visitors from outside the city and state.
Lots of Great Activities
If you're interested in joining in the festivities, you can head to the iconic beach and participate in unique family-friendly activities such as the "dive-in" movie at PLUNGE pool on July 15 or the museum booth at Belmont Park, which also opened Saturday and will remain open through the end of September. Here, you'll be able to see relics and photos commemorating the history of the beach.
Our company also has its own history in Mission Beach and the San Diego area. We have served the community for years. In fact, our water removal and restoration specialists have over 35 years of experience removing water from floods, storms or broken pipes and backed up sewage systems. After all, home owners want the water to remain in the ocean where they can enjoy it when walking along Mission Beach, not in their homes. Water removal is especially important when you're close to the ocean because moist conditions allow mold and mildew to thrive.