Fire Damage Restoration San Diego: Forming a Family Fire Escape Plan
Unless you are the parents of Lizzie Borden, no household disaster is more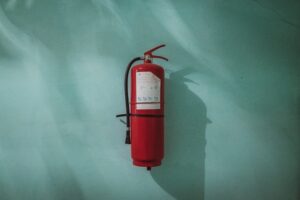 terrifying than a fire. Houses across America catch fire for various reasons be it from a kitchen disaster to a wildfire outbreak and in most cases reasons the homeowners are never prepared. It is important to always have the phone number of a fire damage restoration San Diego company ready in the event of a fire emergency. But also you should have a well-planned fire escape figured out for your family to follow in the event your home succumbs to flames.  Certified fire damage restoration San Diego services can be performed by licensed and bonded technicians to restore your home back to new from the ashes of chaos, but nothing (not even a witch doctor) can bring back family members in the event the dreaded worst case scenario plays out. By constructing an escape plan you can significantly increase your family's survival chances in a house fire. Be sure to spread the word and help keep your friends and neighbors safe too!
Let's Talk About Smoke Alarms
Before you define an escape plan you will need to make sure you have the right number of smoke detectors, and that they are wired to work properly. According to the top fire damage restoration San Diego companies smoke alarms should be installed in every bedroom and outside the immediate sleeping area in every level of the home. According to the NFPA 72 National Fire Alarm Code, interconnected smoke alarms should exist in every room of the house so that when one blows the alarm siren, they all go off.
Do a Walkthrough With the Family
According to the National Fire Protection Association (NFPA) all family members should be involved in doing a walkthrough to plan the fire escape routes. Gather all family members and charge one person with the responsibility to take notes on paper pinpointing all possible escape patterns. When you do this, note every possible fire escape from every hallway and room. According to fire damage restoration San Diego technicians a fire can spread to a hall before one has a chance to flee a bedroom. Ensure that every family member, especially small children, understand that the window is a fire escape when it is not safe to go through the door when fire blazes on the opposite side. If you live in a two-story home tell the family to first throw a mattress out the window so there will be something soft to hit upon landing. If the window is too narrow, instruct everyone to cover their head with their arms and hands and jump while trying to limp. There is a chance they might break a bone or get a few bruises but this beats facing a raging fire!
Pets and the Rendezvous Point
Pets are family too, so make sure a teenager or adult is responsible for gathering all pets and taking them outside to safety. You should also select a rendezvous point outside the home with a target time of 60 seconds in which all family members meet safe and sound.  It is best to gather far from the home because flames are very unpredictable and even a slight change in the wind can cause them to jump and spread in a matter of seconds. Meeting across the street at a neighbor's house or at the end of the driveway are two possibilities.
You can get more ideas by contacting the local fire department in your community where you can also get educational materials for the kids that teach fire safety. Every little bit of information can help save lives!