Mold Removal in Ramona
Did you spot mold growth in your home or business in Ramona? If so,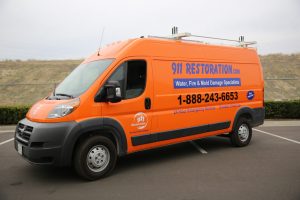 you can start mold remediation right away by contacting 911 Restoration of San Diego. Our mold cleanup techs are IICRC certified and prepared to clean up your property. Contact us 24/7/365 to get a Fresh Start. We can:
Reach Your Property Within 45 Minutes of an Emergency Call

Provide You with a Mold Inspection and Mold Testing

Isolate Mold and Stop It from Spreading

Perform Mold Decontamination and Odor Removal
Return your property to better-than-new condition with mold removal in Ramona. Limit the total damage to your home or business by allowing us to start mold cleanup immediately.
What Happens in Mold Remediation in Ramona?
Mold remediation in Ramona is a multi-step process designed to erase all signs that you ever experienced a mold infestation. The steps in mold cleanup generally include:
An Initial Mold Inspection

Blocking Off Areas Infested with Mold

Removing Mold Spores with Air Filters

Drying and Dehumidifying Damp Areas

Cleanup for Items Infested with Mold

Disposal of Items That Cannot be Cleaned

Mold Decontamination and Disinfection

A Final Mold Inspection
The licensed, bonded, and insured mold removal techs at 911 Restoration of San Diego can handle all of these steps for you. Let mold decontamination crews work tirelessly to ensure your property is mold free and completely restored.
Can Mold Cleanup in Ramona Help with Water Damage?
Mold infestation and water damage often go hand-in-hand in Ramona.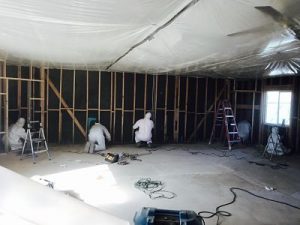 Excess moisture gives mold the perfect environment to grow in, leaving you with multiple problems. The mold experts at 911 Restoration of San Diego have the training and resources to help you with flood cleanup and mold removal.
Our property restoration techs can identity your unique needs with a water damage and mold inspection in Ramona. Crews can then handle water extraction, drying, and dehumidification alongside mold decontamination in Ramona.
Addressing both water damage and mold remediation can ensure your property is brought back to the perfect condition that you deserve. Handing water damage restoration quickly can also reduce the odds that you will face another mold infestation in the future.
Take steps to get back your peace of mind after a mold infestation by contacting 911 Restoration of San Diego right now. Techs will work aggressively to:
Handle Both Commercial and Residential Mold Removal

Ensure All Foul Odors from Mold Growth Are Removed

Repair Any Water Damage to Your Property
Crews can even help you file insurance claims for water damage restoration and mold remediation in Ramona.
Servicing the cities of Bonita, Bonita Long Canyon, Bonsall, Carlsbad, Carmel Valley, Cardiff by the Sea, Central Escondido, Chula Vista, Coronado, Del Mar, El Cajon, Encinitas, Escondido, Fallbrook, Hidden Meadows, Imperial Beach, Jamul, La Jolla, Lakeside, La Mesa, Lemon Grove, National City, Oceanside, Poway, Ramona, Rancho San Diego, Rancho Santa Fe, San Diego, San Luis Rey, San Marcos, Santee, San Ysidro, Solana Beach, Spring Valley, Valley Center, Vista… and surrounding areas.