Mold Removal in San Luis Rey
A mold infestation can make your property feel contaminated and
unfamiliar. And after all the work you've put into making your home or business a refuge, a fungal attack feels like an insult. Don't worry. When you call 911 Restoration of San Diego for mold remediation in San Luis Rey, you get courteous service from experts who understand what you're going through. Our mold decontamination technicians do whatever it takes to make your property new again. They work hard to give you a Fresh Start.
Every mold remediation expert on staff is IICRC certified. This means they have successfully completed rigorous training in every aspect of property restoration. They are the best of the best when it comes to mold inspection, mold cleanup, and even property repairs. These experts know how to get rid of your infestation safely and quickly, and you can count on them to fortify your home or business against future growth.
Mold is painfully common in the San Luis Rey area. Local properties are always at risk of some sort of moisture invasion. This could be a full-blown property flood or small ceiling leak. Either way, once mold spores find a damp surface, they only need 24 hours to create a colony. Once they do, professional mold decontamination should be a top priority.
Whatever the reason, if you need a mold inspection or mold cleanup services, turn to the company your neighbors trust. Call 911 Restoration of San Diego.
Residential and Commercial Mold Removal in San Luis Rey
Don't wait another second to call a certified mold remediation contractor. If you're a homeowner, the longer mold grows on your property, the more costly your damages will be in the long run. Not to mention, mold releases dangerous particles that can be harmful to the health of your family. If you're a business owner, lingering mold creates a hazardous atmosphere for your clients and employees.
The stakes are high. But the good news is, our mold remediation crew can resolve the problem faster than you thought possible. The mold cleanup workers at 911 Restoration treat your property as if it were their own.
First, they conduct a thorough mold inspection. They believe that no mold removal job is complete unless they can be certain every colony has been addressed. This means their mold inspection must include all the dark corners where mold hides and thrives.
Then, they use the utmost caution to perform safe and reliable mold removal. The challenge of mold is that mold remediation requires disruption of the colony. This disruption forces the growth to release spores, mycotoxins, and other particles that are unsafe to inhale. Our certified mold decontamination specialists handle mold removal in a way that limits the release of these particles.
After mold cleanup is complete, the technicians dehumidify the structure to prevent a repeat infestation. And if any structure or surface was destroyed by fungus, they handle repairs personally.
At 911 Restoration of San Diego, we believe every challenge is an opportunity to begin again, better than before. If you need mold cleanup in San Luis Rey or the surrounding area, call the company that promises a Fresh Start.
Is Living in a House with Mold Bad?
When life gets hectic, a mold infestation can be all too easy to ignore. It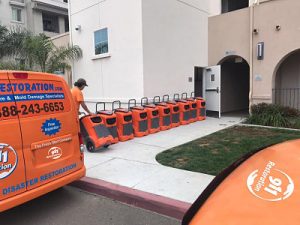 sometimes feels like it's just a couple splotches on the wall or a faint mildew smell in the basement.
The truth is living with mold is hard on your body and harmful to your family and coworkers. If you put off mold decontamination, you're likely to learn the hard way that the help of a professional is worth the expense.
Many property owners are already familiar with the dangers of black mold. This is a toxigenic variety of mold that releases mycotoxins into the air you breathe. The longer you wait on black mold removal, the more mycotoxins you inhale. Ultimately, these particles build up in your body and cause health problems including asthma, respiratory issues, and heart conditions.
But black mold isn't the only dangerous mold species. It's important to pursue white mold remediation and brown mold removal, as well. In fact, most types of mold are at least allergenic or pathogenic and can be harmful to human health.
If you believe you have an infestation in your home, call us right away for a mold inspection. Our mold decontamination crew uncovers every trace of growth and kills it once and for all so you can breathe easy.
Servicing the cities of Bonita, Bonita Long Canyon, Bonsall, Carlsbad, Carmel Valley Cardiff, Central Escondido, Chula Vista, Coronado, Del Mar, El Cajon, Encinitas, Escondido, Fallbrook, Hidden Meadows, Imperial Beach, Jamul, La Jolla, Lakeside, La Mesa, Lemon Grove, National City, Oceanside, Poway, Ramona, Rancho San Diego, Rancho Santa Fe, San Diego, San Luis Rey, San Marcos, Santee, San Ysidro, Solana Beach, Spring Valley, Valley Center, Vista, and surrounding areas.