How Mold Affects Employee Productivity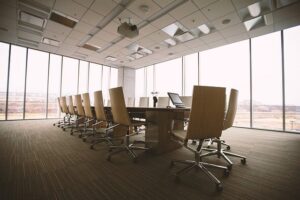 Mold spores are resilient and hard to avoid. All they need for growth (and spiral out of control) is water, nutrients, and oxygen. You can find these key ingredients commonly, which means that no space is safe – whether it's your home or office.
Studies show that mold is dangerous and can have a debilitating effect on health. There is a clear link between health conditions such as respiratory problems with mold growth. All these health hazards can induce illness and tank employee productivity.
Understanding the Health Risks of Mold
Mold is known for posing a serious health risk to humans. There are over 1,000 species of mold found throughout the United States, with over 100,000 around the world. Although mold can play an important role in nature by breaking down organic matter, such as fallen leaves and dead animals, it can wreak havoc indoors.
Some of the most common health risks related to mold include allergic rhinitis, asthma, and infections. Symptoms of exposure to mold may include shortness of breath, irritation in the eyes, skin rashes, wheezing, and difficulty breathing.
In the worst of cases, mold can also cause black mold poisoning leading to coughing, headaches, asthma, and allergic reactions.
People with weakened immune systems will have a different reaction to mold than healthier individuals, symptoms include bronchitis, asthma, fever, and others. While it's true most of these symptoms can be treated, regular exposure to mold at the workplace can distract employees from their assignments. This can lead to low worker productivity, a higher risk of absenteeism, and a greater turnover rate.
Does Mold Damage Homes?
Although it's true that mold can significantly reduce the air quality of your home, cause unpleasant odors, and unsightly stains, it will not cause structural damage to homes. However, it can destroy supporting materials such as insulation, carpeting, and paper backing.
At its worst, mold can be devastating to the indoor appearance of many office spaces and require extensive repairs. For obvious reasons, any significant repair work will require employees to either work from home or take time off from work (either of these can also lead to lower productivity).
Understanding How Mold Can Enter an Environment
Humid environments such as restrooms, break rooms, and facility entrances are particularly vulnerable to mold. But managers can lower the risk of mold growth by regulating humidity and properly cleaning these areas.
Mold may also grow in areas that are usually out of sight (and therefore, out of mind), such as ceilings, corners, wall crevices, air vents, and water pipes.
If the office space is going through consistent water leak problems, ask the landlord to intervene and provide you with an action plan. Depending on where you live, you may be able to hold your landlord responsible for the cost of any repairs.
Call mold removal experts in San Diego to perform an assessment. Once the professionals have identified the sources of mold growth, your landlord or you must infix the source of the problem (usually a pipe leak or high humidity). You may enlist the help of building designers, environmental experts, and contractors to identify the best course of action.
Flood removal experts at 911 Restoration San Diego can help you investigate the reasons for mold growth and come up with actionable strategies to address it. Time is of the essence though, because excessive growth of mold may require substantial cleanup services. You may have to hire experts, toxicologists, and epidemiologists – and that could cost you money.
Mold can become a problem if it is found in large concentrations, which may require the entire office space to be cleaned and sanitized to guarantee the safety of workers before they can return. Once the mold problem is taken care of, ask the professional to certify that the building is clean.
Pro tip: Before renting office space, ask your landlord to prove that the building is clean (this may require them to show you a few certifications).
Keep Your Employees in the Loop
If your office has a mold probe, it may be a cause of concern for your employee. It is important to let your employees know about your plans, particularly if you have hired outside help.
Some of the work on the building may necessitate relocation of your employees if you are leasing the building, ask your landlord to provide a clean environment to help you resume your operations during repairs. Make sure to keep track of all your relocation costs.
The relocation of workers, cleaning of furniture, and work-related equipment will cost you thousands of dollars and loss of productivity. If you are leasing your building, keep your landlord fully appraised of the situation and ask them to make assist with repairs and provide you with a prompt action plan. Demand them to reimburse you for your losses. 
Risk Mitigation
When it comes to mold growth, the above steps can help you mitigate risk by preventing health risks associated with mold exposure. Remember, practicing good safety habits can save you time, money, and resources, while also ensuring that productivity at the workplace is not impacted.
It is highly recommended to conduct mold inspections so that you can find out sources of potential leaks that could leak to mold growth.
If you are in need of mold removal services in San Diego, get in touch with the experts at 911 Restoration of San Diego. We can handle any mold-related problem efficiently.