Water Damage in Del Mar
Quick water restoration is the key to a full recovery after a leak or flood has impacted your home or business; otherwise, stagnant water can cause mold, rotting, warping, and structural damages.
To ensure that you receive water damage restoration immediately, 911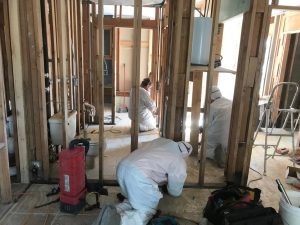 Restoration of San Diego is available 24/7/365 and guarantee to arrive within 45 minutes of receiving your call.
Technicians are qualified to implement an array of leak and flood cleanup services, such as the latest drying technology, dehumidifiers, and powerful water extraction machines.
Whether you are experiencing a pipe burst, ceiling leak, toilet overflow, or property flood, you can rely on the technicians to completely restore your residential or commercial property with advanced water damage restoration, leaving it clean and dry.
911 Restoration of San Diego is licensed, insured, and bonded for your protection, not to mention backed by the Institute of Inspection, Cleaning, and Restoration. So, when you flood cleanup in Del Mar performed by a trusted team that cares and understands your needs, call us today!
Learning About The Effects Of Water Damage Restoration In Del Mar
Proper water damage restoration services include so much more than just removing water from the home or business. Yes, that is a part of it, drying and dehumidifying services is just as important as the water extraction.
After the first part of flood cleanup process is completed and the bulk of the water is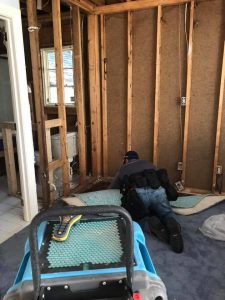 removed, air movers and dehumidifying machines will be set up to evaporate any lingering moisture.
Water extraction and drying services must be done correctly; otherwise, there is a severe risk that moisture will remain in your walls, ceiling, floorboards, or carpet, causing mold and mildew.
Technicians are specially trained in water removal techniques so that they are as thorough as they are quick. They know where water and moisture love to hide, and will safely eradicate any mold found in your property.
Once the drying services are complete, customers will get to see their property reborn, from the inside out. Repair techs are skilled at every step of the restoration process, from replacing wood floors to reconstructing entire kitchens.
We want customers to look at water restoration as the means to a Fresh Start. So, call 911 Restoration of San Diego for advanced leak and flood cleanup services as soon as you notice signs of moisture in your property.
Free Insurance Consultations For Water Damage Coverage
The cost of water restoration varies depending on many different factors, which is why technicians conduct a free inspection to determine an estimate before they get to work.
911 Restoration of San Diego has experience working with all insurance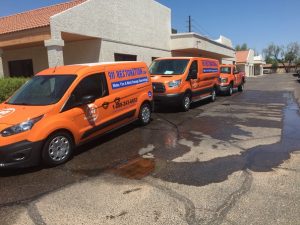 companies, big and small, and they understand precisely what information providers need to in order to grant you the maximum coverage.
By providing free insurance consultations, staff members hope to get their customers the most out of their policy, both to ease your mind and ensure you receive the restoration services you need.
It is important to us as it is to our customers that your out-of-pocket expenses stay minimal. If for some reason your water damage is not covered by your insurance, you can breathe a sigh of relief knowing that we always keep our services affordable.
Call 911 Restoration of San Diego when you need a Fresh Start after water invades your property and technicians will act quickly to get every trace of water damage thoroughly repaired today!
Servicing the cities of Bonita, Carmel Valley, Central Escondido, La Jolla, Rancho Santa Fe, Del Mar, Encinitas, Hidden Meadows, Cardiff, Carlsbad, Poway, Oceanside, Solana Beach, Ramona, Rancho San Diego, Bonita Long Canyon, Bonsall, Chula Vista, Coronado, El Cajon, Escondido, Imperial Beach, Jamul, La Mesa, Lakeside, Lemon Grove, National City, San Diego, San Luis Rey, San Marcos, San Ysidro, Santee, Vista, Valley Center, Spring Valley, and the surrounding areas.