Water Damage in Spring Valley
Water damage that is left untreated can cause significant destruction to your property by deteriorating the structural integrity of the home or business, such as rotting drywall, warping floors, and soaking carpets through thoroughly.
911 Restoration of San Diego specializes in emergency water damage restoration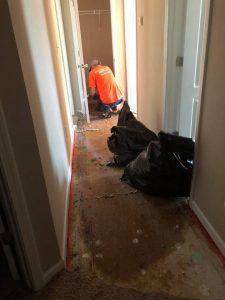 because their technicians have seen that any amount of moisture that is left to stagnate for long enough will begin to grow mold and eat away at the interior of your property.
With this fact in mind, the specialists react to all emergencies quickly, guaranteeing to respond within 45 minutes, no matter what time you may need help. The office is open 24/7/365, so customers can receive water damage restoration in Spring Valley around the clock.
Since there are varying degrees of water that can invade your property, it is crucial to hire professionals to administer the leak and flood cleanup services. A toilet can overflow with black water, which is filled with bacteria and toxins that can be a health hazard.
Luckily for property owners in the Spring Valley, 911 Restoration of San Diego is IICRC certified to handle any category of water damage, with category three water being toxic, black water, category two water being dirty, but less harmful, grey water, and category one water being the cleanest.
At 911 Restoration of San Diego, the staff is committed to mitigating water damage before it escalates into a problem that leads to extensive and expensive repairs. So, call the highly trained technicians as soon as you need leak or flood cleanup in Spring Valley today!
Preventing Ceiling Water Damage From A Roof Leak
When a leak impacts you, 911 Restoration of San Diego will provide same-day, water damage restoration services to patch up the leak and begin mitigating the moisture issues.
While waiting for our arrival, it would be helpful to find a bucket to collect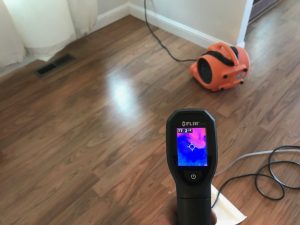 the water, which will significantly lower the chances of water pooling together and warping the floor and developing mold
Through decades of experience, our technicians have come to understand how serious a roof leak can be as it can destroy ceilings, walls, and carpets in just a matter of hours, which is why office agents will give you tips on how you can contain the leak before technicians arrive on the scene.
To speed up the process, you can also go ahead and take further steps like moving wet furniture to a dry area of the room, unplugging electronics from wicked wall sockets, clearing the area to make room for the repair workers, and pulling back the carpet if it's damp to avoid mold.
Once repair techs arrive on the premises, they will provide property owners with a free visual inspection to determine the source of the water damage and promptly make repairs. Technicians use the latest state-of-the-art technology to remove all excess water and dry the area thoroughly.
Regardless of the category of water damage you are dealing with, give 911 Restoration of San Diego today, and we will provide you with the peace of mind you need to recovery from any water disaster.
Figuring Out If Your Insurance Covers Leak And Flood Cleanup Services
Major insurance companies cover most water damage restoration services, but if you have never had to file an insurance claim before it can get confusing to figure out what information they need.
911 Restoration of San Diego has worked with all of the insurance provides for years,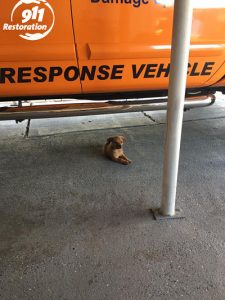 so customers can trust that we know what to do to get you the coverage you deserve for your leak or flood cleanup.
A staff member will provide you with a free insurance consultation to ensure that your provider gets all the information it needs to support you financially.
Since a standard insurance policy does not cover some issues, it is crucial to implement preventative maintenance throughout your home or business all year round, so your provider can not claim that property owner negligence was the cause of the water damage.
Even though the city of Spring Valley only gets a small amount of annual rainfall, the occasional storm still blows through the area and causes harm to some of the beautiful homes in the area. If you want to be sure that all types of water damage are covered, it may be smart to look into supplemental flood insurance.
At 911 Restoration of San Diego, the technicians take pride in performing water damage restoration services that reflect the high standards of the community they're serving. So, call us today and let us turn your water disaster into a Fresh Start!
Servicing the cities of Bonita, Carmel Valley, Central Escondido, La Jolla, Rancho Santa Fe, Del Mar, Encinitas, Hidden Meadows, Cardiff, Carlsbad, Poway, Oceanside, Solana Beach, Ramona, Rancho San Diego, Bonita Long Canyon, Bonsall, Chula Vista, Coronado, El Cajon, Escondido, Imperial Beach, Jamul, La Mesa, Lakeside, Lemon Grove, National City, San Diego, San Luis Rey, San Marcos, San Ysidro, Santee, Vista, Valley Center, Spring Valley, and the surrounding areas.