Water Damage and Mold Removal in Santee
Get same-day help with a water damage emergency in Santee by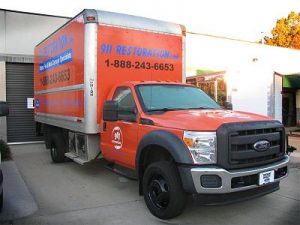 contacting 911 Restoration of San Diego. Our water damage restoration and flood cleanup techs can provide you with a Fresh Start. All crews are on-call around the clock. Techs are IICRC certified to:
Perform a Water Damage and Mold Inspection

Begin Water Extraction with Professional Grade Pumps

Handle Dehumidification and Mold Remediation
Let us put together a water damage restoration and mold removal plan with a mold inspection in Santee. Mold decontamination crews can work tirelessly to make sure your property is returned to perfect condition following a flood, mudslide, winter storm, or pipe burst in Santee.
Do You Need Same-Day Water Damage Restoration in Santee?
Water damage caused by a storm, landslide, or pipe burst can be disastrous for your commercial or residential property. You should be aware that water can begin causing serious damage within only a few hours. Fortunately, you can get help right away from our licensed, bonded, and insured water damage restoration crews. Let us:
Take Care of Business and House Flooding

Deal with Flood Cleanup Following a Pipe Burst

Focus on Mold Removal Starting with a Mold Inspection
Even small amounts of moisture can allow mold to thrive in your property. Mold remediation in Santee can stop this fungus in its. tracks We have experience handling mold decontamination and mold abatement, so you can get back your peace of mind.
The Santee flood cleanup and mold removal techs at 911 Restoration of San Diego put you first after a flood, pipe burst, or winter storm. Let us begin working for you right now. Thorough mold decontamination can even remove foul odors from your property in Santee.
Can Mold Remediation in Santee Protect Your Health?
Certain forms of mold – including black mold – can be hazardous to your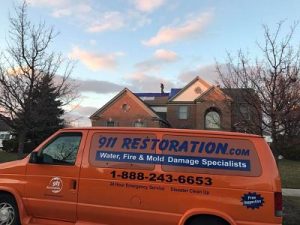 health. This fungus can spread quickly after you experience water damage. Mold grows best in damp, dark places, like basements or crawl spaces.
The flood cleanup techs at 911 Restoration of San Diego have the experience and training to take care of mold removal in Santee. You can contact us 24/7/365 if you spot signs of mold growth. Mold remediation techs can also perform a mold inspection in Santee after any water damage emergencies, to check for fungal growth.
Our Santee mold decontamination techs have the equipment to properly handle mold remediation, even for toxic molds. Let us put your health and wellbeing first after a mold infestation. Crews can scrub and disinfect your property while handling water damage restoration in Santee.
Servicing the cities of Bonita, Bonita Long Canyon, Bonsall, Carlsbad, Carmel Valley, Cardiff by the Sea, Central Escondido, Chula Vista, Coronado, Del Mar, El Cajon, Encinitas, Escondido, Fallbrook, Hidden Meadows, Imperial Beach, Jamul, La Jolla, Lakeside, La Mesa, Lemon Grove, National City, Oceanside, Poway, Ramona, Rancho San Diego, Rancho Santa Fe, San Diego, San Luis Rey, San Marcos, Santee, San Ysidro, Solana Beach, Spring Valley, Valley Center, Vista… and surrounding areas.