Water Damage and Mold Removal in Poway
Take charge after a flood, sewage backup, or pipe burst in Poway by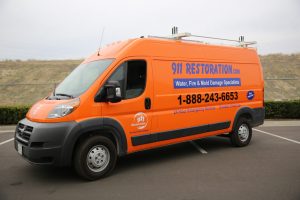 contacting 911 Restoration of San Diego. You can reach out to our water damage restoration techs 24/7/365. All flood cleanup crews are IICRC certified to fully restore your property so you can get a Fresh Start. Call us now and we can:
Arrive Within 45 Minutes of Your Call

Complete a Water Damage and Mold Inspection

Take Care of Water Extraction and Dehumidification

Help You with Mold Remediation and Mold Decontamination
Poway mold removal techs are trained to help you recover from floods, winter storms, and pipe bursts. Let us repair and renovate your property now with flood cleanup and mold remediation services.
Can Water Damage Restoration in Poway Help After a Storm?
Storms in Poway can leave you dealing with serious water damage. Our area can see flooding and even winter storms. These storms can introduce excess water to your property, damaging your floors, walls, ceilings, and possessions. Flood cleanup in Poway can address these issues by:
Handling Water Removal

Focusing on Drying Out Your Property

Repairing Water Damage
Water damage restoration techs can also perform a mold inspection in Poway after a flood. Rain water can introduce mold spores into your property. This means you may need mold removal and mold decontamination in Poway. The mold remediation techs at 911 Restoration of San Diego can get rid of fungus in your property.
Our water damage restoration and mold removal techs can also help if you are dealing with a plumbing emergency. Let us deal with sewage backups, leaking pipes, and pipe bursts.
Does Mold Remediation in Poway Take Care of Black Mold?
As we mentioned, mold can be a big problem if you experienced water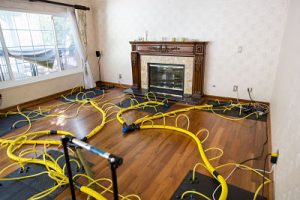 damage caused by flooding or a pipe burst. Beginning flood cleanup in Poway right away can limit your chances of developing a mold infestation, but it's a good idea to perform a mold inspection to check for signs of fungus.
A mold inspection can also be necessary if you suspect you're dealing with black mold. Black mold is toxic and dangerous to your health. Fortunately, mold remediation in Poway can wipe out a black mold infestation. Mold decontamination can even get rid of bad odors from fungal growth.
The IICRC certified mold removal techs at 911 Restoration of San Diego can remove mold spores, get rid of odors, and protect your well-being. Let us begin mold decontamination and water damage restoration in Poway. You can get back your peace of mind after a water damage emergency by contacting us right now.
Servicing the cities of Bonita, Bonita Long Canyon, Bonsall, Carlsbad, Carmel Valley, Cardiff by the Sea, Central Escondido, Chula Vista, Coronado, Del Mar, El Cajon, Encinitas, Escondido, Fallbrook, Hidden Meadows, Imperial Beach, Jamul, La Jolla, Lakeside, La Mesa, Lemon Grove, National City, Oceanside, Poway, Ramona, Rancho San Diego, Rancho Santa Fe, San Diego, San Luis Rey, San Marcos, Santee, San Ysidro, Solana Beach, Spring Valley, Valley Center, Vista… and surrounding areas.