Water Damage in Oceanside, CA
Living near the beach can be tough on your property, especially when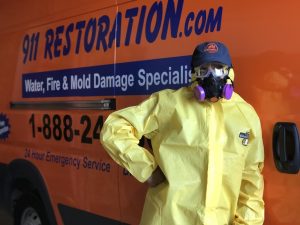 moisture-rich air combines with warm weather, potentially causing mold and water damage in your home or business.
Even mild rain can create the need for water remediation services. A crack in your roof can cause your attic and ceiling to leak, making your interior susceptible to water damage and mold.
911 Restoration of San Diego is just a phone call away to provide property owners with a free visual inspection of the water damage and mold, enabling us to give you an estimate of the water restoration work needed.
If you find yourself in need of emergency restoration services, then you can call 911 Restoration of San Diego and know that they are available 24/7/365 to assist you. To best serve you, our staff members will get technicians to your property within 45 minutes of receiving your call.
If you notice signs of mold in your walls from water damage or discover leaky pipes under your sink, call 911 Restoration of San Diego today.
Emergency Flood Cleanup Services
During the rainy season, the city of Oceanside experiences heavy downpours that can lead to flash floods and flooding due to high coastal surf.
When you need immediate flood damage restoration, you can count on 911 Restoration of San Diego to implement same-day, flooding cleanup services.
By offering emergency service restoration work, we hope to limit the amount of water damage created by floods and rainstorms. The water remediation experts know how to extract water and dry the area quickly, minimizing water damage and mold growth.
Flash floods can also overwhelm the sewer system and create sewage backups in your property. This water is known as black water and should be handled as a waste product.
The experts at 911 Restoration of San Diego are trained to remediate every type of water damage that may impact your property, from roof and ceiling leaks to flash floods and sewage spills.
Call our restoration company for shout quotes for flood water damage today, and we will make mold and water damage issues a thing of the past.
Local, Inexpensive Mold Removal In Oceanside
The warm weather and moist climate in Oceanside creates a hospitable environment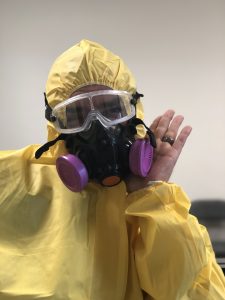 for mold to grow, especially if water damage is present in your property.
911 Restoration of San Diego makes sure to address both the mold and water damage when they are called to inspect a property because usually, these issues have a symbiotic relationship.
When water is left to sit on the surfaces of a structure for more than 24 hours, the spores can blossom into an infestation rather quickly. That is why the best way to stop a mold infestation is first to repair any water damage present.
By removing the water element from the situation, mold cannot survive. So, along with cleaning mold on drywall, the repair techs will also eliminate its water source, preventing future infestations from popping up.
When you discover signs of mold in your Oceanside home, call 911 Restoration of San Diego, and we will give you a cost estimate for mold removal in your property today!