Water Damage and Mold Removal in Lakeside
You can get help handling flooding, pipe bursts, and other water damage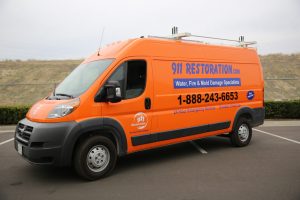 emergencies 24/7/365 by contacting 911 Restoration of San Diego. Our Lakeside water damage restoration crews can race to your property to begin flood cleanup. Let IICRC certified property restoration techs offer you a Fresh Start as they:
Stop Additional Water from Entering Your Property

Take Care of Water Removal

Focus on Dehumidification Services

Check for Mold with a Mold Inspection
If Lakeside flood cleanup techs spot mold, they can begin mold remediation right away. Mold decontamination in Lakeside can wipe away all signs that you experienced a mold infestation, so you can move forward with peace of mind.
How Can Water Damage Restoration in Lakeside Handle Plumbing Disasters?
Sewage backups and pipe bursts in Lakeside can leave you dealing with commercial and residential property damage. In these cases, flood cleanup involves more than carpet water drying. Flood cleanup techs may need to:
Repair Damage to Leaking or Burst Pipes

Remove and Dispose of Raw Sewage

Use Fans and Dehumidifiers to Dry Your Property
Water damage restoration techs will also check for signs of fungal growth with a mold inspection in Lakeside. Many property owners require mold removal in Lakeside following a pipe burst or another water damage event. The pros at 911 Restoration of San Diego are licensed, bonded, and insured to handle mold removal and mold decontamination. 
You can count on us to work tirelessly on mold removal after a water damage event. Contact us right now if you need mold remediation or water damage restoration services. We can get started with a mold inspection.
Can Mold Remediation in Lakeside Get Rid of Foul Odors?
Mold infestations can lead to property damage, threats to your health,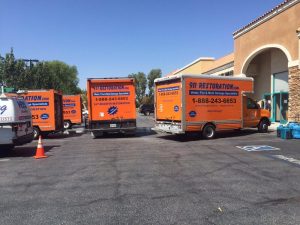 and unsightly discoloration as the fungus grows. Mold can also leave behind a foul odor that many property owners find unpleasant. Fortunately, 911 Restoration of San Diego uses professional-grade cleaning equipment to remove this smell.
Getting professional help with mold removal can erase all signs you ever experienced a mold infestation. Lakeside mold remediation techs can start the process with a mold inspection. The results of your mold testing can help us determine your exact mold decontamination needs.
Let us focus on all aspects of property restoration after you experience flooding or a pipe burst in Lakeside. Contact us to begin water damage restoration and mold remediation right away. Mold decontamination techs are on-call around the clock, so you don't have to wait for business hours to get the dedicated support you need securing your peace of mind and a Fresh Start.
Servicing the cities of Bonita, Bonita Long Canyon, Bonsall, Carlsbad, Carmel Valley, Cardiff by the Sea, Central Escondido, Chula Vista, Coronado, Del Mar, El Cajon, Encinitas, Escondido, Fallbrook, Hidden Meadows, Imperial Beach, Jamul, La Jolla, Lakeside, La Mesa, Lemon Grove, National City, Oceanside, Poway, Ramona, Rancho San Diego, Rancho Santa Fe, San Diego, San Luis Rey, San Marcos, Santee, San Ysidro, Solana Beach, Spring Valley, Valley Center, Vista… and surrounding areas.