Water Damage and Mold Removal in Jamul
Repair and renovate your property after a flood, sewage backup, or pipe
burst in Jamul by contacting 911 Restoration of San Diego. Our water damage restoration techs are IICRC certified to take care of flood cleanup for you. Crews are on call 24/7/365 and can provide you with fast service so you can get a Fresh Start. Let us:
Assess Your Needs with a Water Damage and Mold Inspection

Stop Water from Entering Your Property and Remove Water

Fix Damage Caused by a Leaking Pipe or Pipe Burst

Begin Mold Remediation and Total Mold Decontamination
Mold removal is often an important part of flood cleanup in Jamul. Handle all of your property restoration needs – including mold remediation – promptly by contacting us now.
Can Water Damage Restoration in Jamul Fully Repair Your Property?
Water damage from a leaking pipe, flood, sewage backup, or pipe burst can leave you with damage to your walls, floors, and possessions. Fortunately, the licensed, bonded, and insured water damage restoration techs at 911 Restoration of San Diego can erase all of this damage.
Flood cleanup and mold remediation can completely repair and renovate your home or business. Crews can use:
Pumps to Handle Water Extractions

Fans, Dehumidifiers, and Air Movers to Dry Your Property

Infrared Scanners to Locate Moisture and Mold

Professional Equipment for Mold Decontamination
No job is too big or too small for the dedicated water damage restoration techs at 911 Restoration of San Diego. Mold decontamination crews will work tireless to handle mold removal and flood cleanup for you. We can get the process started with a water damage and mold inspection in Jamul.
What Types of Mold Does Mold Remediation in Jamul Handle?
Floods, storms, and pipe bursts can leave you dealing with unwelcome fungal growth.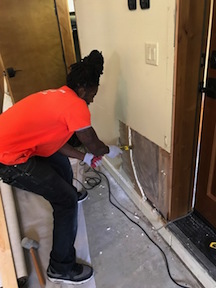 A mold inspection can identify signs of fungal growth in your home and business. That's why we offer a mold inspection alongside flood cleanup services.
If water damage restoration techs spot mold growth, they can spring into action immediately. Mold remediation in Jamul can take care of any type of mold, including:
Molds That Cause Allergic Reactions

Toxic Strains of Mold
You can protect your health by beginning professional mold removal in Jamul quickly after a water damage event. Mold decontamination in Jamul can even remove foul odors that are a side-effect of many forms of mold growth.
Your property can be returned to better-than-new condition after a water damage emergency. Get help within 45 minutes by contacting the Jamul water damage restoration and mold removal techs at 911 Restoration of San Diego now.
Servicing the cities of Bonita, Bonita Long Canyon, Bonsall, Carlsbad, Carmel Valley, Cardiff by the Sea, Central Escondido, Chula Vista, Coronado, Del Mar, El Cajon, Encinitas, Escondido, Fallbrook, Hidden Meadows, Imperial Beach, Jamul, La Jolla, Lakeside, La Mesa, Lemon Grove, National City, Oceanside, Poway, Ramona, Rancho San Diego, Rancho Santa Fe, San Diego, San Luis Rey, San Marcos, Santee, San Ysidro, Solana Beach, Spring Valley, Valley Center, Vista… and surrounding areas.