Water Damage and Mold Removal in Encinitas
You can get help from IICRC water damage restoration techs after a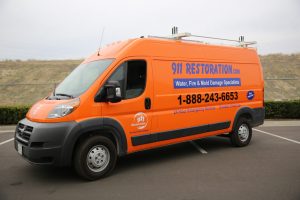 flood, winter storm, sewage backup, or pipe burst in Encinitas. The flood cleanup pros at 911 Restoration of San Diego can start working for you within 45 minutes of an emergency call so you can get a Fresh Start. We can:
Assess Your Needs with a Water Damage and Mold Inspection

Begin Water Extraction and Crawl Space Cleanup

Handle Drying and Dehumidification

Take Care of Mold Remediation and Mold Decontamination
Our licensed, bonded, and insured flood cleanup and mold removal techs put your needs first following a water damage event. Get help following a winter storm, a flood, or a pipe burst.
What Equipment is Used in Water Damage Restoration in Encinitas?
Water damage restoration in Encinitas can be completed by skilled flood cleanup techs armed with cutting-edge equipment. The crews at 911 Restoration of San Diego can use:
Professional-Grade Pumps for Water Removal

Dehumidifiers, Fans, and Air Movers to Dry Your Property

Infrared Scanners to Locate Moisture and Possible Spots of Mold
Crews can also perform a mold inspection in Encinitas. Mold can be a big problem if you experienced a pipe burst, flood, or sewage backup. Beginning mold remediation and mold decontamination quickly can protect your property.
The mold removal techs at 911 Restoration of San Diego have the resources to take care of commercial and residential mold remediation in Encinitas. Start protecting your property and your health by contacting us right now.
When Do You Need Mold Remediation in Encinitas?
Mold spreads fast in damp and dark environments. This means that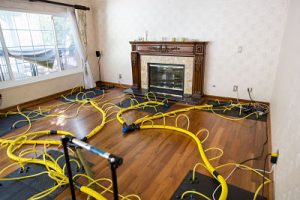 fungal growth can be an issue after a pipe burst or another water damage emergency. You may notice a foul odor or discoloration that indicates mold growth. In this situation, it's a good idea to get a mold inspection.
Encinitas mold removal techs can check your property thoroughly with a mold inspection. Based on their findings, they can begin mold removal and mold decontamination alongside flood cleanup in Encinitas. You should also get professional help with mold decontamination in Encinitas if you are dealing with a toxic mold.
These forms of mold can cause serious respiratory problems. Don't risk your health by attempting mold remediation on your own. Let our IICRC-certified techs handle water damage restoration in Encinitas. Crews can wipe away water damage, handle mold growth, and return your property to the perfect condition you deserve.
Contact us right now to get same-day water damage restoration services and a Fresh Start after a pipe burst, sewage backup, or natural disaster.
Servicing the cities of Bonita, Bonita Long Canyon, Bonsall, Carlsbad, Carmel Valley, Cardiff by the Sea, Central Escondido, Chula Vista, Coronado, Del Mar, El Cajon, Encinitas, Escondido, Fallbrook, Hidden Meadows, Imperial Beach, Jamul, La Jolla, Lakeside, La Mesa, Lemon Grove, National City, Oceanside, Poway, Ramona, Rancho San Diego, Rancho Santa Fe, San Diego, San Luis Rey, San Marcos, Santee, San Ysidro, Solana Beach, Spring Valley, Valley Center, Vista… and surrounding areas.