Water Damage in Coronado
Homes and businesses in Coronado are at risk of experiencing water damages, if not from wet weather, then from a ceiling leak, pipe burst, or some other interior problem.
Fortunately, at 911 Restoration of San Diego, the technicians provide emergency,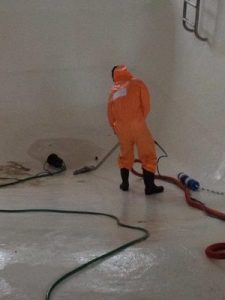 water damage restoration services 24/7/365, so customers never have to wait long for help. They are guaranteed to arrive within 45 minutes of being notified of your emergency. Give us a call at 858-216-2488 and we will answer your phone call no matter the time of day.

There is no job too big or too small for our repair techs because the customer's wellbeing is always the most critical part of any leak or flood cleanup job. Keeping you feeling taken care of is our utmost priority.
911 Restoration of San Diego prides themselves on being a local, family-owned, water damage restoration company. Our thorough knowledge of San Diego County allows technicians to tackle leaks and floods with speed and flexibility, providing you with the most qualified services.
The organization is IICRC certified by the Institute of Inspection, Cleaning, and Restoration, and is licensed, bonded, and insured for the protection of all of its customers. These qualifications, coupled with our decades of experience, makes us the trustworthy restoration company in the industry.
So, call 911 Restoration of San Diego when you need leak and flood cleanup in Coronado, and you will be assisted by a team of experts that care and understand your needs.
Call 911 Restoration For Emergency Flood Cleanup Services
At 911 Restoration of San Diego, the technicians are all about providing customers with the best water damage restoration in Coronado, which includes excellent customer service. Give us a call at 858-216-2488 and allow us to provide you with a free visual inspection.

As part of our customer service regiment, repair techs provide property owners with a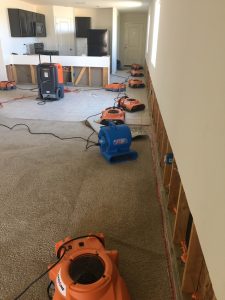 free visual inspection, which includes an estimate, to ensure every trace of moisture is thoroughly removed from the premises.
In some cases, water damage can be deceptive, with the extent of the destruction traveling down ceilings, behind walls, and through floorboards without you ever seeing it. To be sure that water damage is mitigated before mold begins to form, repair techs provide free visual inspections.
By issuing these surveillances, technicians will be able to find the source of the water damage and strategize a plan of action for the flood cleanup.
Most leaks are not visible at their inception. Pipe bursts often occur behind walls, meaning it will take a while before most homeowners can see the severity of the water damage, allowing the moisture to cause a mold infestation.
The reason some water damage restoration jobs last longer than one might think is that the amount of decay that exceeds what the eyes can see. This is why customers should receive annual inspections, even if they are unsure about whether or not water or mold has invaded the premises.
Not only can leaving water damage untreated result in unsightly mold, but it can weaken the structural integrity of the property, resulting in even higher bills and the risk of losing your insurance coverage if they find negligence the cause of the damage.
So, call 911 Restoration of San Diego when you notice even the slightest amount of leak or flood damage in your property and technicians will mitigate any issue before it spirals into a more costly situation.
Understanding The Signs Of Water Damage In Your Property
The easiest way to reduce the cost of your water damage restoration bill is to spot early signs of water damage and take appropriate action as quickly as possible.
Sometimes the only signifier is a small spot of dampness near the edge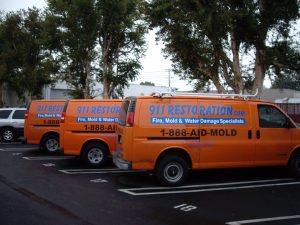 of the wall, making it crucial to pay attention to the little details around the trouble areas of the property, such as the rooms that frequently come into contact with water, like the bathroom, kitchen, and attic.
Technicians will use infrared camera technology to locate precisely the extent and level of damage a leak may have caused. This technology also allows us to not miss or leave behind any water damage inside your walls.
When you call our team, you can be confident that your problem will be taken care of promptly and thoroughly. Our restoration company is locally owned and operated, which allows 911 Restoration of San Diego to have competitive pricing.
Staff members can help you with filing your insurance claim by providing a free insurance consultation. Our office thrives upon giving you the best customer service, and we believe the job is not finished until you can resume your daily life without any thought of water damage.
Call 911 Restoration of San Diego at 858-216-2488 if you have any questions regarding your insurance policy or the water restoration process in general. Technicians will show you that it is possible to turn your water emergency into a Fresh Start!
Servicing the cities of Bonita, Carmel Valley, Central Escondido, La Jolla, Rancho Santa Fe, Del Mar, Encinitas, Hidden Meadows, Cardiff, Carlsbad, Poway, Oceanside, Solana Beach, Ramona, Rancho San Diego, Bonita Long Canyon, Bonsall, Chula Vista, Coronado, El Cajon, Escondido, Imperial Beach, Jamul, La Mesa, Lakeside, Lemon Grove, National City, San Diego, San Luis Rey, San Marcos, San Ysidro, Santee, Vista, Valley Center, Spring Valley, and the surrounding areas.