Sanitization Services in San Diego
The coronavirus pandemic has spread so suddenly many property owners find themselves scrambling to adapt. With new information about coronavirus every day, it can be difficult to keep up with current best practices for slowing the spread. If you feel overwhelmed by the constantly evolving advice regarding coronavirus, you're not alone. The good news is, we're all in this together. And you can always turn to 911 Restoration of San Diego for answers regarding sanitization and disinfection. Give us a call at 858-216-2488 and we can provide you with a free visual inspection.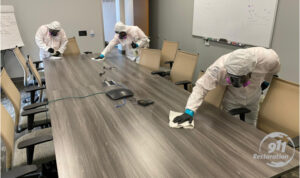 Coronavirus research is ongoing. To make sure you're always up-to-date on the latest information, follow respected organizations such as the CDC or WHO. In the meantime, here's what we know for sure.
First, a coronavirus infection can range from mild to severe. For some individuals, the virus can be deadly. Those who are elderly or immunocompromised are most vulnerable to fatal infection. They may also experience serious complications such as kidney failure or severe acute respiratory syndrome.
It may take up to 14 days for an individual to show signs of exposure to coronavirus. Some people do not exhibit symptoms at all. If you own a retail store or other commercial property, please take note: patrons or employees may bring coronavirus into your facility without realizing it. This does not reflect carelessness on their part, but it does require extra vigilance on yours. Disinfect your retail store or office as though you know for certain the space has been exposed to coronavirus.
Also be aware that the virus remains viable for hours and even days on varying surfaces. Never take for granted that your property will decontaminate itself overnight.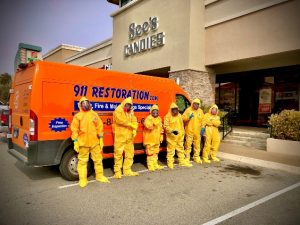 Whether you oversee a commercial facility or a residential property, you may feel the burden of providing peace of mind for everyone else. Your family, employees, and customers look to you to do your part towards curbing the spread of coronavirus. At 911 Restoration, we understand the pressure you're under. We're grateful for your diligence and commitment to the community. And we'd love to help.
We provide sanitization and disinfection solutions for business and homeowners. Our sanitization and disinfection teams are all trained to follow CDC and EPA protocols. Each and every one of our technicians serves our neighbors with compassion, transparency, and clear communication. Whether you need home disinfection or office deep cleaning, you can count on our crew to be thorough and follow safe practices.
Families and businesses like yours are what make San Diego remarkable, beautiful, and strong. At 911 Restoration, we believe we have the power to enrich our own lives by making things easier for those around us. Even in an unprecedented challenge like this one, you're not alone. Call water damage restoration company escondido ca at 858-216-2488 and you can know that we will always answer your phone call no matter the time of day.