Mold Removal in San Marcos
You can get same-day help with mold remediation in San Marcos by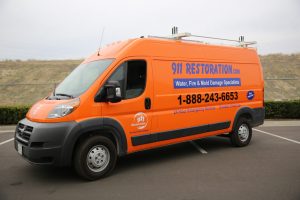 contacting 911 Restoration of San Diego. Our IICRC certified mold cleanup techs are on-call 24/7/365 and they can reach your property within 45 minutes of an emergency call. You deserve a Fresh Start after a mold infestation. Get the professional help you need by contacting us for:
A Free Visual Mold Inspection for Property Owners Only

Mold Testing Carried Out by a 3

rd

Party Laboratory

Both Commercial and Residential Mold Removal Services

Odor Removal, Property Repairs, and Mold Decontamination
911 Restoration of San Diego's mold remediation experts in San Marcos can give you back your peace of mind if you discover mold growth in your home or business.
Where Does Mold Grow in San Marcos?
Mold can grow in any damp and dark environment. In some cases, mold even grows beyond dark and moist spaces, especially if it is already established. However, many property owners discover mold in their basements, crawl spaces, bathrooms, or other spaces that use water.
A professional mold inspection in San Marcos can identity exactly where mold is growing in your property. This fungus can spread under your floors and behind your walls, so it is important that mold cleanup techs perform a thorough mold inspection.
After inspecting your property, San Marcos mold removal crews can:
Isolate Areas Impacted by Mold Growth

Use Air Filters to Get Rid of Mold Spores

Clean Up Mold with Mold Decontamination
Make sure your property is returned to better-than-new condition after a mold infestation by contacting us right now. Mold cleanup techs can work aggressively to take care of total mold remediation in San Marcos.
Can Mold Remediation in San Marcos Handle All Molds?
There is not a single strain of mold that can infest homes and businesses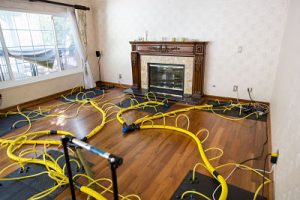 in our area. Instead, there are many different kinds of mold. Some molds are toxic and others cause allergic reactions. They can all damage your property and they can all be defeated with mold removal in San Marcos.
The mold remediation techs at 911 Restoration of San Diego are licensed, bonded, and insured to handle mold cleanup in San Marcos. Crews can perform a mold inspection to determine the type of mold you are dealing with, so they can personalize your mold decontamination services.
Depending upon your unique needs, San Marcos mold decontamination experts can use different cleaning solutions and disinfectants. Regardless of the type of mold you are facing, the mold removal pros at 911 Restoration of San Diego will not rest until your property is returned to perfect condition.
Servicing the cities of Bonita, Bonita Long Canyon, Bonsall, Carlsbad, Carmel Valley, Cardiff by the Sea, Central Escondido, Chula Vista, Coronado, Del Mar, El Cajon, Encinitas, Escondido, Fallbrook, Hidden Meadows, Imperial Beach, Jamul, La Jolla, Lakeside, La Mesa, Lemon Grove, National City, Oceanside, Poway, Ramona, Rancho San Diego, Rancho Santa Fe, San Diego, San Luis Rey, San Marcos, Santee, San Ysidro, Solana Beach, Spring Valley, Valley Center, Vista… and surrounding areas.