Mold Removal in Vista
Looking for a mold and mildew specialist? Our mold remediation experts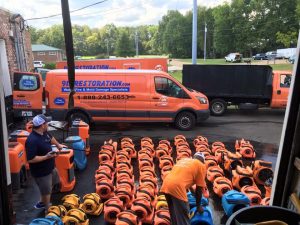 are extensively trained and certified in mold decontamination. From white mold to black mold, homes to businesses, 911 Restoration of San Diego is equipped to handle all your mold removal needs.
Our number one goal is to turn your mold disaster into an opportunity for a Fresh Start. We don't just do mold cleanup. We do whatever it takes to make your home or business new again. This means our technicians conduct a full mold inspection, mold removal, structural dehumidifying, and mold restoration. It doesn't matter if mold has left behind unsightly stains or eaten away at your drywall. This team is equipped to handle all repairs and replacements.
We know how stressful it is to be in need of mold removal in Vista. Mold destroys your property and contaminates the air you breathe. And if you're like a lot of property owners, mold decontamination may sound like an intimidating and costly undertaking. That's why we do all we can to deliver peace of mind from the moment we receive your call. Our mold remediation crew works with you to minimize your expenses now and save money in the long run with preventative measures. They explain every procedure carefully, lay out the risks and options related to your infestation, and provide the highest standard of service. 911 Restoration of San Diego is licensed, insured, and bonded. Our company is also locally owned and operated, so you know you're receiving service from a true friend and neighbor.
Mold won't get the better of you or your property. Just call 911 Restoration of San Diego for a Fresh Start.
Full-Service Mold Remediation in Vista
When fungus invades your home or business, you need more than basic mold cleanup. Mold removal alone only gets rid of one colony, while others may be lurking in hidden corners of your property. Basic cleanup also does nothing to address the root of the problem or protect you against a repeat infestation.
Our mold remediation technicians deliver the most comprehensive decontamination service available. They begin with a thorough mold inspection to make sure no colonies are left to destroy your property in secret. When they are content that their mold inspection has uncovered every growth, they  use professional tools for mold removal. The mold decontamination experts then bring in professional fans to dehumidify the structure. It is your right as a property owner to know that mold can return even after mold remediation is complete . . . especially if the structure where it grew is still damp. Remaining mold spores can land on the same surface and create a new growth. This is why structural dehumidifying is such an essential part of the process. Our mold cleanup crew dries the structure to its core, depriving spores of a damp surface.
Finally, our technicians handle any repairs you might need to fully restore your home or business. Is your ceiling stained? Drywall weakened? Carpet contaminated? No matter what it is, they have it covered.
Consider 911 Restoration of San Diego your best ally from beginning to end. We're here for you all the way. Just pick up the phone and tell us where to be.
Can You Save Money by Using Home Remedies to Clean Mold?
There are plenty of ways you can use do-it-yourself techniques to make
your property better. However, mold remediation is not one of them.
Because mold contamination can lead to health problems and property destruction, mold cleanup is a serious undertaking. It is important to do it right, and no home remedy will ever be as effective as calling a certified mold decontamination expert.
For one thing, you need a professional mold inspection to be certain you've actually addressed the entire problem. Mold reproduces through airborne spores that travel to different areas of your house or business. This means that while you're attacking a colony on the bathroom wall, there could be mold in your basement.
Hoping to remove mold from your carpet using a carpet steamer? That won't work, either. Mold spores are microscopic and can collect in the fibers of your rug. When you steam the carpet, you may remove the fungus, but you leave spores behind… as well as a damp place for them to thrive.
We promise you, if you're hoping to save money in the long run, your best bet is to get a professional mold inspection today. At 911 Restoration of San Diego, we find every trace of mold and eliminate it for good.
Call us for reliable mold cleanup in Vista.
Servicing the cities of Bonita, Bonita Long Canyon, Bonsall, Carlsbad, Carmel Valley Cardiff, Central Escondido, Chula Vista, Coronado, Del Mar, El Cajon, Encinitas, Escondido, Fallbrook, Hidden Meadows, Imperial Beach, Jamul, La Jolla, Lakeside, La Mesa, Lemon Grove, National City, Oceanside, Poway, Ramona, Rancho San Diego, Rancho Santa Fe, San Diego, San Luis Rey, San Marcos, Santee, San Ysidro, Solana Beach, Spring Valley, Valley Center, Vista, and surrounding areas.