Mold Removal in Valley Center
Did you discover mold growth in your home or business in Valley Center?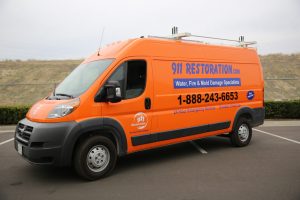 Protect your property and your health by contacting the mold removal pros at 911 Restoration of San Diego. Our IICRC certified mold remediation experts can be reached 24/7/365. Take the first step to getting a Fresh Start after a fungal infestation by contacting us. Techs can:
Reach Your Property Within 45 Minutes in Valley Center

Complete Mold Testing and Mold Inspection

Begin Comprehensive Mold Cleanup and Mold Decontamination
Beginning mold cleanup in Valley Center right away can reduce the overall costs to repair and renovate your property. Get ready to return your property to perfect condition by contacting us today to begin mold decontamination in Valley Center with a mold inspection.
What Happens During Mold Remediation in Valley Center?
Here at 911 Restoration of San Diego, we don't believe in a one-size-fits all approach to mold remediation. Our crews personalize mold cleanup to meet your needs, as identified in your mold inspection. However, there are some common steps used in many instances of mold removal, including:
Isolating the Areas Infested with Mold

Setting Up Air Filters to Remove Mold Spores

Removing and Cleaning Items Infested with Mold

Scrubbing and Disinfecting Infected Surfaces

Performing a Final Mold Inspection
The exact techniques used for mold decontamination can vary based on the type of mold present in your property. All crews are licensed, bonded, and insured to handle different strains of mold, so you can feel confident no matter what kind of fungus is growing in your home or business.
Let us begin mold cleanup in Valley Center right now. Techs are standing by to take your call and begin renovating and repairing your property.
What Causes Mold Growth in Valley Center?
Mold spores exist in the world around us all the time. These spores
generally only land and begin spreading when they reach an environment that is damp and dark. This means that many mold infestations are a result of a water damage emergency, like a flood or a pipe burst.
For this reason, 911 Restoration of San Diego offers water damage restoration and mold removal services in Valley Center. We can dry and dehumidify your property while taking care of mold remediation in Valley Center. Crews can repair leaking pipes, handle flood cleanup, and focus on mold decontamination.
Your peace of mind and the total restoration of your property comes first for the mold remediation experts at 911 Restoration of San Diego. Get dedicated support on your side by calling us now for same-day mold removal services.
Servicing the cities of Bonita, Bonita Long Canyon, Bonsall, Carlsbad, Carmel Valley, Cardiff by the Sea, Central Escondido, Chula Vista, Coronado, Del Mar, El Cajon, Encinitas, Escondido, Fallbrook, Hidden Meadows, Imperial Beach, Jamul, La Jolla, Lakeside, La Mesa, Lemon Grove, National City, Oceanside, Poway, Ramona, Rancho San Diego, Rancho Santa Fe, San Diego, San Luis Rey, San Marcos, Santee, San Ysidro, Solana Beach, Spring Valley, Valley Center, Vista… and surrounding areas.