Mold Removal in San Ysidro
Property owners are never free from the threat of mold . . . not even in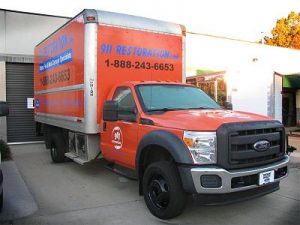 beautiful San Ysidro. Winter storms, sewage backups, and even minor leaks lead to water damage. And water damage often leads to mold contamination.
Fortunately, local home and business owners always have an ally in 911 Restoration of San Diego. We have been providing mold removal in San Ysidro and the surrounding area for a long time. We know what it takes to restore your property to its former glory, and we know how to give you peace of mind during a challenging time.
You can count on 911 Restoration for the highest standard in mold remediation service. Our IICRC certified mold decontamination technicians have undergone extensive training in all aspects of restoration. They have you covered with a comprehensive mold inspection and safe, effective mold removal. They protect your property for the long run with structural dehumidifying, and they handle all repairs themselves. By the time your mold cleanup crew drives away, your property will look as though fungus had never touched it.
One call is all it takes to get a Fresh Start . . . as long as that call is to 911 Restoration of San Diego. Reach out today and let our mold decontamination experts make things right again.
Mold Remediation After Water Damage
Mold is such a tricky form of property damage partly because mold contamination happens so easily. Mold spores are constantly in the air around you, and as soon as even the most minor water incident occurs, those spores make their home on damp surfaces.
As San Ysidro's go-to mold restoration company, we're well-aware of the mold-related effects of water damage. In fact, our mold decontamination crew is also a certified water damage restoration team. This means they understand where water seeps into your floors and walls after a water incident. They know the corners and crevices that are hardest to dry and most hospitable to mold spores. They recognize all the tell-tale signs of a hidden infestation, and they know how to uncover every trace with a mold inspection.
If you received water damage restoration service from a company other than 911 Restoration, find out if they included a mold inspection. If not, let our mold inspection crew explore your property right away. It may seem like no big deal, but mold spreads quickly and does a lot of damage. The purpose of mold in nature is to eat away at organic materials. It does the same in your home or business, destroying wood, wallpaper, and even glue. The best way to protect yourself from future expenses is to get a mold inspection done now.
Don't risk it. If you've had water damage, call 911 Restoration for an inspection and mold remediation in San Ysidro and beyond.
Black Mold Cleanup in San Ysidro
Worried you may have black mold growing in your basement or on your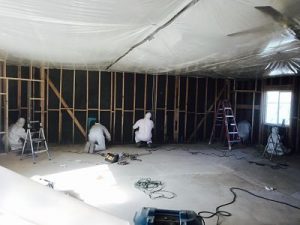 walls? Wondering where to find safe black mold decontamination? Not even entirely sure what black mold is?
Don't worry. We have all your answers right here at 911 Restoration of San Diego.
Black mold is a common buzzword referring to a toxigenic mold that takes on green-black appearance. It is often slimy, though in drier climates it may appear as a more powder-like substance. In any case, living with black mold is always dangerous. If you suspect you have a black mold infestation, contact a certified mold remediation contractor right away. As you breathe in the mycotoxins released by black mold, you put yourself at risk of developing a range of health issues from asthma to heart conditions.
Our mold removal professionals know exactly how to handle dangerous mold cleanup safely. They conduct a mold inspection to ensure that every hazardous colony has been found and dealt with. These experts identify each growth so you know exactly what species you're dealing with before mold remediation begins. They have the tools to manage mold removal without spreading an excess of mycotoxins or leaving your property full of black mold spores. After mold cleanup, they use structural dehumidifying to make sure the surface where mold grew is now inhospitable to future growth.
The bottom line is that everything your dedicated mold decontamination crew does, they do with your well-being in mind. If you're faced with the danger of toxigenic mold, call the mold removal company that puts your best interests first. Call 911 Restoration of San Diego.
Servicing the cities of Bonita, Bonita Long Canyon, Bonsall, Carlsbad, Carmel Valley Cardiff, Central Escondido, Chula Vista, Coronado, Del Mar, El Cajon, Encinitas, Escondido, Fallbrook, Hidden Meadows, Imperial Beach, Jamul, La Jolla, Lakeside, La Mesa, Lemon Grove, National City, Oceanside, Poway, Ramona, Rancho San Diego, Rancho Santa Fe, San Diego, San Luis Rey, San Marcos, Santee, San Ysidro, Solana Beach, Spring Valley, Valley Center, Vista, and surrounding areas.