Mold Removal in Oceanside
Are you dealing with a mold infestation in Oceanside following a flood,
pipe burst, or sewage backup? If so, you can get help handling water damage restoration and mold removal by contacting 911 Restoration of San Diego right now. Our property restoration crews are on call around the clock. We can even get to homes and businesses around Oceanside within 45 minutes of an emergency call.
Once our mold experts reach your property, they can complete a water damage and mold inspection in Oceanside. This mold inspection can allow techs to develop a personalized mold cleanup plan dedicated to addressing your unique needs. Techs can then:
Handle Water Extraction and Dehumidification

Stop Mold from Spreading by Isolating Affected Areas

Get Rid of Mold Spores with Air Filters

Begin Mold Decontamination to Take Care of Odor Removal
Let mold remediation techs bring your property back to perfect condition in Oceanside. You can contact us whenever you notice mold growth to get immediate help on your side.
What Can You Expect from Mold Removal in Oceanside?
Mold removal in Oceanside can completely erase all signs of a mold infestation from your home or business. 911 Restoration of San Diego has the equipment, experience, and training to:
Carry Out a Thorough Mold Inspection

Clean and Disinfect Areas Experiencing Mold Growth

Remove and Dispose of Items That Cannot be Cleaned

Take Care of Mold Decontamination to Protect Your Health
Our mold cleanup crews are IICRC certified to handle commercial and residential mold remediation in Oceanside. Mold decontamination techs are also licensed, bonded, and insured to repair water damage, which can take care of the underlying causes of a mold infestation.
Move forward with confidence after a mold infestation by contacting 911 Restoration of San Diego. Mold cleanup in Oceanside can offer you a Fresh Start and your peace of mind.
How Quickly Can You Begin Mold Remediation in Oceanside?
Mold will keep spreading each day it remains in your property.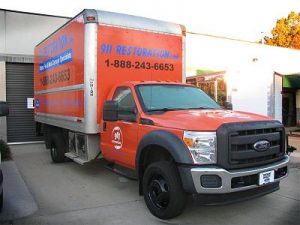 Fortunately, you can get same-day mold remediation services by contacting 911 Restoration of San Diego. Let us get the ball rolling by offering you a professional mold inspection in Oceanside.
Beginning mold cleanup immediately limits the total damage to your property and can even protect your health. Some forms of mold – including black mold – are toxic. 911 Restoration of San Diego has the protective equipment and training to handle black mold removal in Oceanside.
Let us take care of all aspects of mold decontamination in Oceanside. Mold experts can personalize the mold remediation plan to address all of your needs, so your property can be returned to the pristine condition that you deserve. Crews can even repair damaged caused by a sewage overflow, pipe burst, or flooding caused by storms. Move forward with your peace of mind by contacting us now.
Servicing the cities of San Diego, Carlsbad, Oceanside, Chula Vista, El Cajon, La Jolla, Del Mar, Coronado, Escondido, Central Escondido… and surrounding areas.