Mold Removal in Lakeside
For reliable mold remediation in Lakeside, call 911 Restoration of San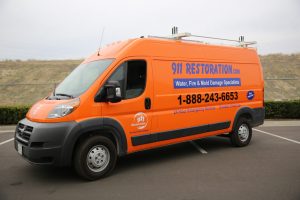 Diego. Staffed exclusively by certified mold removal specialists, our crew works hard to make your property brand new again. They are trained in every aspect of mold cleanup, from mold inspection and mold removal to structural drying. They even repair any damage caused by your infestation.
Lakeside is a remarkable place to live and work, but all this beauty comes at a cost. Between water damage from winter storms and simple pipe leaks, local properties are always vulnerable to mold, including toxigenic black mold. Fortunately, the mold remediation crew at 911 Restoration is fully dedicated to keeping Lakeside lovely. This means that when local properties are under fungal attack, our mold cleanup professionals come running.
At 911 Restoration of San Diego, our goal is to turn your property disaster into a Fresh Start. Choose our mold decontamination crew, and you'll be left with a mold-free property that's protected against future infestations. Not only that, but every stain, odor, and destroyed surface will be gone. From ceiling repair to carpet removal, our mold cleanup workers do what it takes to restore your property to its former glory. And all along the way, they communicate clearly, follow transparent business practices, and work with you to keep your costs low.
911 Restoration of San Diego is licensed, insured, and bonded. We are also locally owned and operated, so you can trust us to be a true neighbor to you.
If you need mold remediation in Lakeside, call the contractor you can trust. Reach out to 911 Restoration of San Diego today.
Quality Mold Inspection in Lakeside
Effective mold decontamination starts with a quality mold inspection. You can find that quality with 911 Restoration.
Mold is sneaky. Mold spores are always in the air around you. Even the most conscientious property owner cannot keep mold spores off their property. This means that any time moisture gathers in any corner of your home or office, spores are ready and waiting to create a thriving colony. Even worse, mold grows best in dark, hidden areas. You could have mold in your walls, under your sink, down your pipes, on your sheetrock, or in any number of hidden areas.
Our mold inspection professionals are relentless when it comes to exploring every square inch of your property. Where you may see a single colony growing on your ceiling, they see a warning sign that a second infestation could be growing out of sight. They know all the clues and telltale signs indicating hidden growth. If you have any unseen fungus, you can be sure our mold inspection experts will find it. And once they do, they handle mold remediation completely, from mold removal to surface repairs.
Don't live in the dark anymore. Call 911 Restoration for a mold inspection and learn the truth about what's lurking behind your walls.
The Number One Mold Cleaning Service in Lakeside
Why is 911 Restoration such a trusted name in mold decontamination?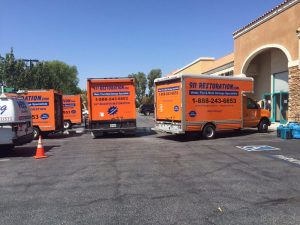 For one thing, our service is truly comprehensive. We don't just get rid of the problem you see; we take the time to discover the root of your issue and protect your property against further infestation. This means conducting a thorough mold inspection and using caution during mold removal to prevent the spread of spores. Our mold decontamination crew also uses structural dehumidifying to make the structure of your property inhospitable to a repeat infestation. And if mold has destroyed the surface beyond repair, our mold cleanup crew even replaces the material themselves so you don't have to hire another contractor.
911 Restoration also stands out because of our compassionate service. Our mold removal technicians treat your property as if it were their own. They understand how stressful it is to see your beloved property contaminated by mold. Their goal is to give you peace of mind and get you through this ordeal with as little worry as possible. They communicate clearly, answer every question, and even help file your claim if your insurance covers mold remediation. 
To put it another way, 911 Restoration is your ally from day one. Mold contamination is overwhelming, but there is no reason for you to push through it alone. Instead, call 911 Restoration of San Diego for the very best in support and peace of mind.
Servicing the cities of Bonita, Bonita Long Canyon, Bonsall, Carlsbad, Carmel Valley Cardiff, Central Escondido, Chula Vista, Coronado, Del Mar, El Cajon, Encinitas, Escondido, Fallbrook, Hidden Meadows, Imperial Beach, Jamul, La Jolla, Lakeside, La Mesa, Lemon Grove, National City, Oceanside, Poway, Ramona, Rancho San Diego, Rancho Santa Fe, San Diego, San Luis Rey, San Marcos, Santee, San Ysidro, Solana Beach, Spring Valley, Valley Center, Vista, and surrounding areas.