Mold Remediation in La Jolla
You don't have to deal with a mold infestation in your home or business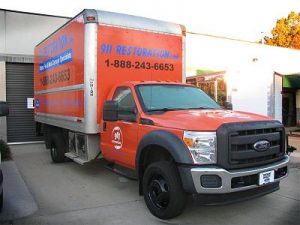 alone. You can get professional help handling mold removal in La Jolla by reaching out to 911 Restoration of San Diego. You can contact our mold cleanup crews 24/7/365 to get help within 45 minutes of your emergency call.
Mold remediation in La Jolla can return your property to the perfect condition that you deserve. The pros at 911 Restoration of San Diego are licensed, bonded, and insured to:
Perform a Professional Mold Inspection and Mold Testing

Deal with Both Commercial and Residential Mold Infestations

Pack Out and Safely Store Your Mold-Free Belongings

Take Care of Mold Decontamination and Odor Removal
You can wipe away all signs of a mold infestation with our mold removal services. Get back your peace of mind by contacting us to begin mold cleanup in La Jolla right now with a mold inspection.
Protect Your Health with Mold Removal in La Jolla
Many forms of mold can destroy your property and threaten your health. These toxic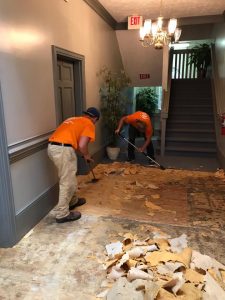 molds can cause respiratory ailments and other medical conditions. The mold cleanup pros at 911 Restoration of San Diego can handle black mold removal to protect your physical well-being.
You should not attempt to clean up dangerous forms of mold on your own. Exposure to their spores can negatively impact your health. Let trained mold experts armed with specialized protective gear handle this type of mold remediation to protect your health and to ensure the job is done correctly. The mold remediation crews at 911 Restoration of San Diego can:
Carry Out a Mold Inspection to Find Out What Kind of Mold You Are Dealing With

Set Up a Personalized Mold Decontamination Plan

Remove Odors, Discoloration, and All the Signs of a Mold Infestation
Make sure your home or business is brought back to the perfect condition you deserve. Let our highly trained and experienced mold removal crews spring into action right now.
Handle Water Damage and Mold Remediation in La Jolla
Most mold infestations don't just happen out of the blue in La Jolla.
Generally, mold growth is prompted by a water damage emergency, like a flood or a pipe burst. Repairing this water damage can reduce the odds that you'll face another mold infestation and also ensure your property is completely restored.
911 Restoration of San Diego can take care of water damage restoration and mold remediation in La Jolla. Mold cleanup crews have the resources, training, and experience to handle water extraction, dehumidification, and mold decontamination.
Mold experts can perform a final mold inspection in La Jolla after all property restoration work is completed to make sure that all signs of the mold infestation have been removed. You deserve to get expert help on your side handling mold decontamination in La Jolla, so call us now.
Servicing the cities of San Diego, Carlsbad, Oceanside, Chula Vista, El Cajon, La Jolla, Del Mar, Coronado, Escondido, Central Escondido… and surrounding areas.