Mold Removal in Jamul
If you need mold removal in Jamul or the surrounding area, don't wait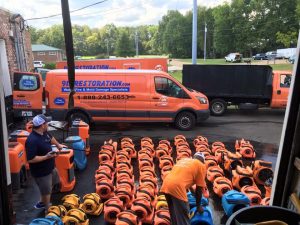 another minute to call a certified mold remediation contractor. Reach out to 911 Restoration of San Diego right away. The longer you put off mold decontamination, the worse your damages will be. Fungus eats away at the structures of your property. Different varieties of mold also release dangerous particles that enter your body through the air you breathe. Prolonged exposure to these particles can lead to a range of health problems from allergies to heart conditions. Our mold remediation expert eliminate those risks by offering comprehensive mold cleanup and compassionate service.
Every member of our team has successfully completed rigorous training. Our technicians are IICRC certified in property restoration. This means you can count on them to reach the highest standard of service for every step of the mold cleanup process. They provide a reliable mold inspection, safe mold removal, and structural dehumidifying. If fungus has caused any lasting damage to any part of your property—whether it's mold in your carpet or crumbling drywall—the mold removers handle repairs themselves. They work hard to make your property feel brand new. 
At 911 Restoration of San Diego, we understand how a simple mold infestation can make the property you love feel contaminated. Let us make your home or business feel like your own again. For compassionate, affordable mold inspection and mold cleanup, call 911 Restoration today.
Reliable Black Mold Remediation in Jamul
Many homeowners panic at the sight of slimy, black-green mold on their walls or under their sink. Don't worry. While it may be the black mold infestation you fear, toxigenic mold removal experts are only one call away.
Our mold decontamination technicians know exactly how to deal with dangerous mold colonies. If you suspect you have an infestation of any kind, it's best to keep a safe distance and call a professional for assistance. It's true that black mold is the most dangerous offender. This variety releases harmful mycotoxins that can cause serious, long-term health issues after prolonged exposure. However, even seemingly harmless white mold and brown mold can have allergenic and pathogenic properties. Translation: if you're around them for too long, you may get sick.
The mold cleanup crew at 911 Restoration are highly trained to get rid of mold safely.They use special tools and professional tactics to handle mold removal without spreading spores and mycotoxins throughout your property.
Your dedicated mold decontamination workers also work with genuine concern for your wellbeing. At 911 Restoration, we don't see you as another invoice. To us, you're a neighbor, and we want to get you through this ordeal and onto a Fresh Start. It's a matter of company policy to treat your mold problem as if it were our own. That's why you can count on our mold inspection and mold remediation experts to do their job with your family or coworkers' safety in mind.
If you need mold cleanup in Jamul, call the certified mold specialist who holds your well-being above all else. Call 911 Restoration of San Diego.
Is There a Home Remedy to Clean Mold?
If you're hoping to save a few dollars by cleaning mold using household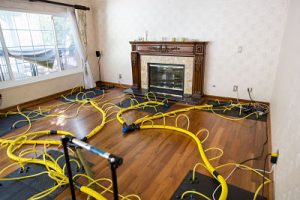 products, be forewarned that do-it-yourself mold removal techniques often cost you more in the long run. There are many services only a profession mold remediation contractor can provide. And those services are essential for preventing long-term damage.
First, our mold inspection crew explores every nook and cranny to uncover every colony growing your property. The patch of mold you see in plain sight is releasing spores into the air. Spores then travel to other corners of your property. If they land on a damp area, they're ready to create a new infestation. Without a professional mold inspection, you may be allowing additional colonies to thrive undiscovered.
It's also worth noting that our mold remediation experts complete mold cleanup with structural dehumidifying. If you attempt mold removal yourself, you miss this process entirely. This matters because even once the mold itself is gone, mold spores remain in the air. Without structural dehumidifying, those spores can find the same damp surface and create a brand new colony. This means more mold eating away at your property.  
Finally, consider your health. When you scrub at a colony, you force the growth to release dangerous particles. You can then inhale these particles into your lungs. This can be damaging for anyone, but it's especially dangerous if you already have allergies or a compromised immune system.
If you really want to save some cash, all 911 Restoration of San Diego for a mold inspection and remediation. Our technicians do all they can to limit your costs, and they save you from major damages in the long run.
Servicing the cities of Bonita, Bonita Long Canyon, Bonsall, Carlsbad, Carmel Valley Cardiff, Central Escondido, Chula Vista, Coronado, Del Mar, El Cajon, Encinitas, Escondido, Fallbrook, Hidden Meadows, Imperial Beach, Jamul, La Jolla, Lakeside, La Mesa, Lemon Grove, National City, Oceanside, Poway, Ramona, Rancho San Diego, Rancho Santa Fe, San Diego, San Luis Rey, San Marcos, Santee, San Ysidro, Solana Beach, Spring Valley, Valley Center, Vista, and surrounding areas.