Mold Removal in Hidden Meadows
Do you need mold remediation in Hidden Meadows? Turn to 911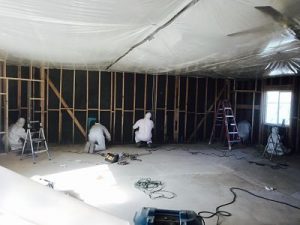 Restoration of San Diego. Our mold removal technicians are IICRC certified and highly trained in all aspects of mold cleanup. They are prepared to conduct a top-to-bottom mold inspection. They handle mold removal safely, effectively, and with as little expense to you as possible. They take preventative measures to protect your property from future growth, and they even repair compromised materials.
In short, they do what it takes to make your home or business brand new again.
The mold remediation crew works with care and compassion. They know how frustrating it is to see your best asset overrun with fungus. You worry about the health of your family or customers. You stress about the expense. You fear that the property you've worked so hard to maintain may never feel as clean or beautiful again. Your dedicated mold cleanup crew knows what you're going through, and they work hard to deliver immediate peace of mind. This means constant communication so you always know what they're doing and why. It also means they give 110% at every step of the process. From mold inspection to structural repairs, they are relentless and thorough. 
At 911 Restoration of San Diego, we believe every challenge is an opportunity for a Fresh Start. Our mold removal experts turn an unsightly mold infestation into an opportunity to rebuild better than before.
If you need mold remediation, call 911 Restoration of San Diego and look forward to a new beginning.
Comprehensive Mold Cleanup in Hidden Meadows
Many property owners choose to attempt mold cleanup themselves, much to their own detriment. The truth is that truly effective mold decontamination is a multi-step process. In order to get rid of mold completely, you need a certified mold specialist to address the cause of your problem and protect against future infestations.
The mold decontamination experts at 911 Restoration begin every job with a mold inspection. By doing this, they ensure total removal of fungus from your property. If you try to clean mold without getting a professional mold inspection, you may be addressing only a fraction of the problem.
Our mold cleanup crew then uses professional tools and techniques to make sure their mold removal effort is safe and effective. After they've gotten rid of the colony, they dehumidify the structure. This means they dry the structure down to its core. Without this essential step, stored moisture is likely to rise to the surface again. Mold spores then have another damp place to land, which means a second infestation is almost inevitable. Our mold decontamination technicians believe it's not enough to just clean your property. They want to leave you with a home or business that's strong, beautiful, and safe against new growth in the near future.
Your dedicated mold remediation workers even repair any destroyed surfaces and structures. It's surprising how much damage a fuzzy little fungus can do. But these organisms feed on organic materials, which means they're likely to wreck your carpet or your drywall. No matter what material is damaged, you can count on our technicians to fix it.
If you need a mold restoration company, don't settle for basic cleaning services. Choose the team who will protect you against mold in the long run. Call 911 Restoration of San Diego today.
Basement Mold Removal in Hidden Meadows
Between storms, flooding, sewage backups, and damp air, we see a lot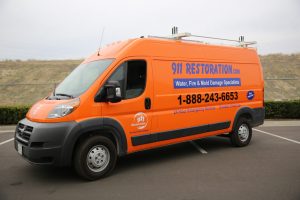 of water damaged basements in Hidden Meadows. And because basements tend to stay damp and dark, this part of your property is especially vulnerable to mold. Even concrete floors soak up and store moisture. Over time, that dampness returns to the surface, creating a prime spot for mold growth even after water cleanup is done.
Our mold decontamination crew is also certified in water damage restoration. This means they understand the relationship between your basement flood and the resulting patterns of mold growth. They know where to look for colonies, performing a mold inspection guaranteed to uncover even the sneakiest infestation.
Many local properties have a problem with black mold in their basement. Such an infestation is especially stressful to property owners, as black mold poses a threat to human health. Not to worry. If you suspect you have black mold growing in your basement or anywhere else on your property, just stay out of the area and call 911 Restoration of San Diego. Our technicians take care of the problem using the safest tactics to prevent the spread of mycotoxins and spores. They also offer a thorough mold inspection to be certain one toxigenic infestation hasn't spawned another colony in a different area of your home or business.
From basement mold to bathroom mold, black mold to white mold, let 911 Restoration be your first call. Our technicians will be there right away to give you a Fresh Start.
Servicing the cities of Bonita, Bonita Long Canyon, Bonsall, Carlsbad, Carmel Valley Cardiff, Central Escondido, Chula Vista, Coronado, Del Mar, El Cajon, Encinitas, Escondido, Fallbrook, Hidden Meadows, Imperial Beach, Jamul, La Jolla, Lakeside, La Mesa, Lemon Grove, National City, Oceanside, Poway, Ramona, Rancho San Diego, Rancho Santa Fe, San Diego, San Luis Rey, San Marcos, Santee, San Ysidro, Solana Beach, Spring Valley, Valley Center, Vista, and surrounding areas.