Mold Remediation in Escondido
Get the professional help you need to deal with a mold infestation in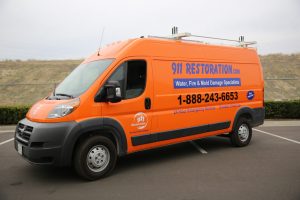 Escondido by contacting 911 Restoration of San Diego. You can reach out to us 24/7/365 to begin mold cleanup in Escondido. Techs can rush to your property after an emergency call, arriving within 45 minutes.
Beginning mold remediation in Escondido right away can reduce the damage to your property. Mold decontamination can also protect your health, as some forms of mold are toxic and may lead to serious health concerns. Address all these issues by calling 911 Restoration of San Diego to:
Get a Free Visual Mold Inspection for Property Owners Only

Allow Techs to Isolate Areas Experiencing Mold Growth

Let Us Utilize Professional Air Filters to Remove Mold Spores

Remove Odors, Discoloration, and Any Damage Caused by Mold
Mold removal techs are dedicated to putting your needs first from the time they arrive to complete a mold inspection in Escondido. Get a Fresh Start after a mold infestation by contacting us right now.
Why Begin Mold Removal in Escondido Immediately?
Mold can spread throughout your property without your notice. This fungus can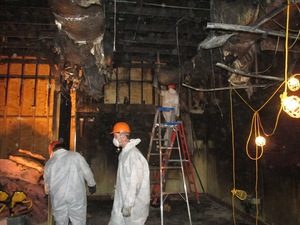 thrive under floorboards and behind walls, sometimes for weeks before the odor becomes noticeable. However, once you have noticed a mold infestation it is important you begin mold cleanup quickly.
Mold can damage your property as it grows. It can discolor your walls and furnishings, create a foul smell, and destroy your home or business. Some strains of mold can even threaten your health. Therefore, it is very important that you start mold decontamination and mold removal in Escondido as soon as you notice a problem.
911 Restoration of San Diego offers same-day mold remediation services. You can contact us right now to begin mold decontamination in Escondido. Mold cleanup crews can perform a mold inspection to assess your specific needs and then begin working tirelessly to return your property to the pristine condition that you deserve.
Can Mold Remediation in Escondido Completely Restore Your Property?
Many property owners worry that they will never be able to erase all signs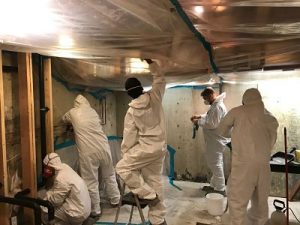 of a mold infestation. In fact, the mold experts at 911 Restoration of San Diego can bring your property back to better-than-new condition with mold remediation services.
All mold removal techs are licensed, bonded, and insured to take care of mold cleanup and mold decontamination. Crews can offer you a mold inspection that can even focus on the issue that caused your mold infestation. As a full-service property restoration company, 911 Restoration of San Diego can:
Repair Water Damage Caused by Flooding, Leaking Pipes, or Pipe Bursts

Handle Sewage Cleanup after a Plumbing Backup

Take Care of Water Extraction and Dehumidification
Water damage restoration can bring your property back to perfect condition and reduce the odds that you'll face another mold infestation. Let us take care of water damage repairs and mold remediation in Escondido right now.
Servicing the cities of San Diego, Carlsbad, Oceanside, Chula Vista, El Cajon, La Jolla, Del Mar, Coronado, Escondido, Central Escondido… and surrounding areas.