Mold Removal in Encinitas
Return your property to perfect condition after a mold infestation in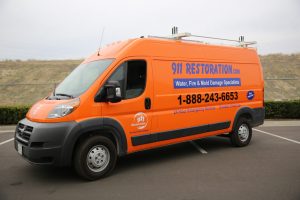 Encinitas by contacting 911 Restoration of San Diego. Our mold remediation techs are on-call 24/7/365 and they can reach your property within 24 hours of an emergency call. Let IICRC certified mold cleanup crews give you the Fresh Start you deserve following a mold outbreak.
You can contact us whenever you need help to begin mold decontamination in Encinitas. Mold remediation crews can perform a free visual mold inspection for property owners only when they reach your home or business. Let us develop a personalized mold removal plan for you based on the results of your mold inspection in Encinitas.
How Do Encinitas Mold Remediation Techs Identify Strains of Mold?
Mold remediation in Encinitas can only begin after techs identify areas impacted by mold and determine the type of mold you are facing. The mold cleanup experts at 911 Restoration of San Diego can:
Use a Mold Inspection to Find Areas Infested with Mold

Perform Mold Testing to Identify Your Strain of Mold
Encinitas mold removal techs can send a sample of your mold to a 3rd party laboratory for mold testing. The results of your mold test can help us determine the best way to ensure all signs of a mold infestation are erased from your property with mold decontamination in Encinitas.
The mold abatement pros at 911 Restoration of San Diego can use infrared scanners to locate spots of moisture that indicate mold growth. Mold decontamination techs can check hard to reach places, including under your floors and behind your walls, to make sure that mold has nowhere to hide in your property.
Does Mold Cleanup in Encinitas Take Care of Bad Smells?
Mold infestations can have a number of unpleasant results for your home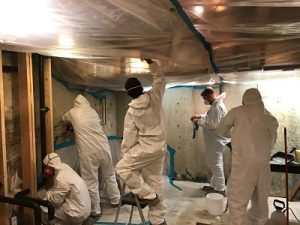 or business. Mold can discolor your walls, floors, and possessions. It can also leave behind a foul odor as it grows and spreads. 911 Restoration of San Diego uses mold decontamination techniques designed to permanently erase this odor. Mold remediation techs can:
Remove and Disinfect All Items Infested with Mold

Dispose of All Items That Cannot be Cleaned

Scrub and Clean All Areas That Experienced Mold Growth
We can even perform a final mold inspection after mold removal is completed to ensure your property is back in perfect condition. You should not be able to see any signs of a mold infestation or smell any remnants of fungal odor by the time mold cleanup is completed. Get a Fresh Start and a completely restored property by contacting mold removal experts now.
Servicing the cities of Bonita, Bonita Long Canyon, Bonsall, Carlsbad, Carmel Valley, Cardiff by the Sea, Central Escondido, Chula Vista, Coronado, Del Mar, El Cajon, Encinitas, Escondido, Fallbrook, Hidden Meadows, Imperial Beach, Jamul, La Jolla, Lakeside, La Mesa, Lemon Grove, National City, Oceanside, Poway, Ramona, Rancho San Diego, Rancho Santa Fe, San Diego, San Luis Rey, San Marcos, Santee, San Ysidro, Solana Beach, Spring Valley, Valley Center, Vista… and surrounding areas.