Flood Restoration Bonsall, CA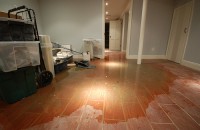 911 Restoration San Diego's flood restoration Bonsall, CA team knows that even though Bonsall is arid with little surface water in its proximity, storms from the Pacific Ocean can still bring rain and damaging floods to the region. In addition to external sources of water, your home can also suffer influxes of water due to plumbing problems. Everything from water heater leaks and ruptured hoses to toilet overflow and fire sprinklers can saturate your home's interior with water, which can result in the growth of toxic mold and damaging rot that requires professional mold remediation.
How Can You Prevent Flooding?
Our flood restoration Bonsall, CA crew offers residents tips on how you can prevent flooding in your home or business. Gutters and downspouts help direct water away from your home to designated runoff areas. Keeping your external drainage system free of debris can help you prevent the pooling of water around your home and on your roof where rain leaks can happen all too easily. To prevent internal flooding, it's important to know where the shutoff valve to your main water line is located. Quickly stopping the flow of water can limit the damage and make the saturation much easier to manage. Sump pumps make a great addition to any subterranean portion of your home, such as basements and cellars.
Sump pumps will kick into gear when they sense water pooling and they will pump the water to runoff areas. Keep an eye on appliances that uses water, such as your washing machine, and replaced worn hoses and pipes to avoid ruptured hoses and pipe bursts. Water heater leaks are also all too common, so keep a vigilant eye on your heater to catch and fix small leaks early before they get out of hand and require water damage restoration. After the natural flooding has stopped or you've shut off water to address plumbing floods, call our flood restoration professionals. We'll be there fast, but in the meantime you can move salvageable items away from the water if you can do so safely.
Why Should You Rely on 911 Restoration For Flood Restoration Services?
Rely on 911 Restoration for flood restoration services because our flood restoration Bonsall, CA team uses the latest drying technology to get water out of your property fast. We have more than three and a half decades of experience in mitigating flood damage in the disaster restoration industry. Our top priorities are restoring flood damaged properties to the best of our abilities and ensuring the satisfaction of our customers. We'll work with your insurance company directly and every member of our team is fully licensed, insured and bonded. Need help quickly? With our 45 minute response time and 24/7 availability you will never be left waiting long for the help you need. At 911 Restoration San Diego we keep our rates as low as possible, so call us at the first sign of trouble for a free inspection and get on a fast track to a full recovery.